Innovative, Year-Round Lighting Coming to Westlake Park Fountain
Posted on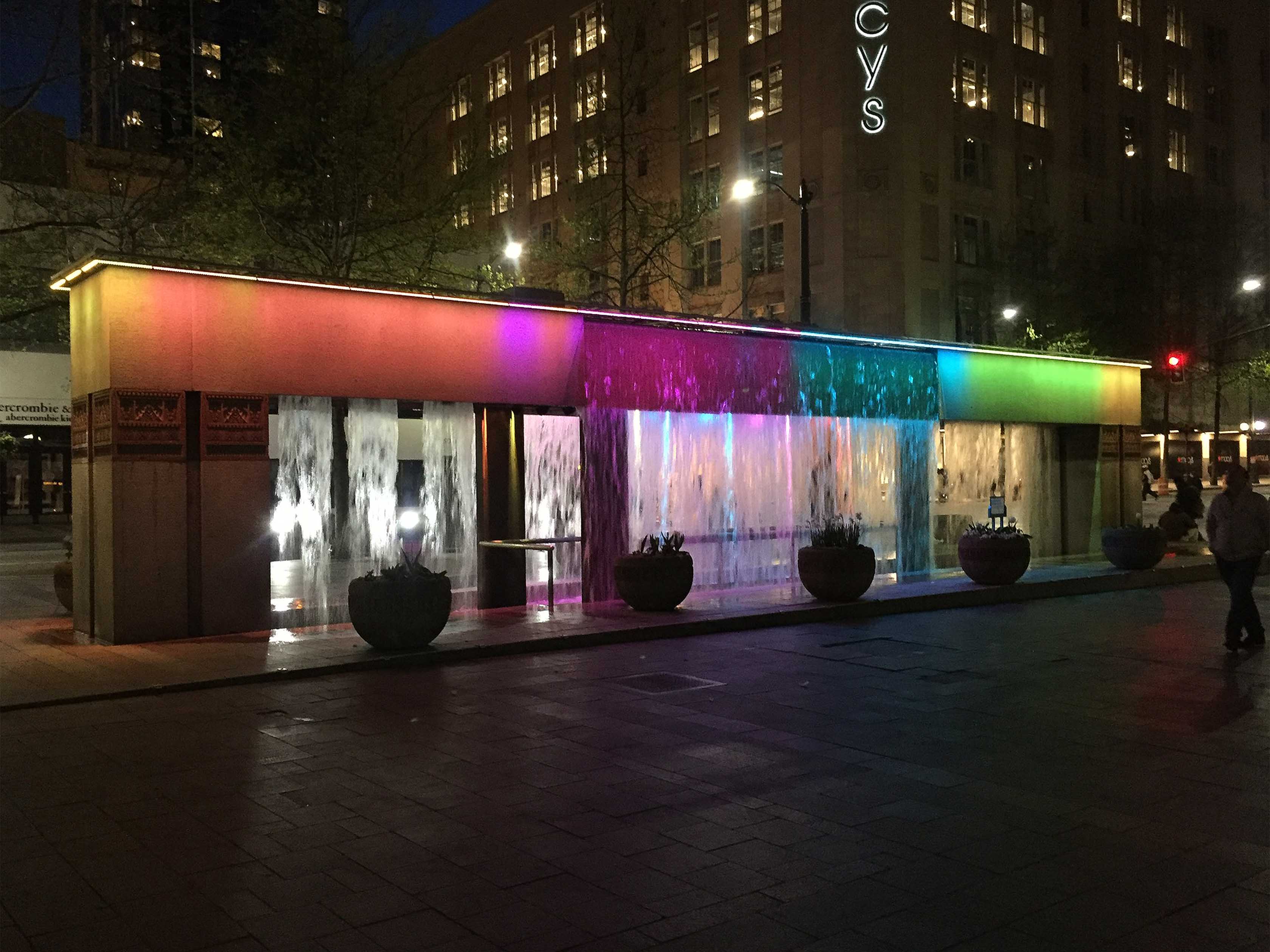 Light is a flexible and compelling tool to enhance public spaces. Recent DSA-commissioned urban art displays, including Neon Cranes, 360 Beacon and Suspended Eddies, all employ light to invite visitors into our downtown parks.  
DSA's newest installation, In the Absence of Natural Light, is a long-term installation by artist team Lumina (Iole Alessandrini and Etta Lilienthal) that layers illumination and color into the Westlake Park fountain. The light sculpture was commissioned by DSA to help create a vibrant pedestrian experience and encourage visitors to spend more time at Westlake, a central gathering point for people from all walks of life.
The display integrates specialized lights throughout the fountain's base and support struts. Once activated, "planes" of light spring to life, complementing sheets of falling water.
The installation, which will be in place year-round, will also help bring people to the park during the slower times, including  fall and winter.
"We were looking to bring a bright, visual element to Westlake Park during a time of year when we could use a pop of light and color," says DSA Vice President of Public Space Operations and Events, Jennifer Casillas. "Lumina's installation will actually go a step further by providing a piece that park visitors can interact with. In the Absence of Natural Light will make the entire park more interesting at night and create a more welcoming environment."
A grant by Seattle's Office of Economic Development helped bring project to life. The installation is not permanent, but the construction is sturdy enough to endure several Seattle winters.
In the Absence of Natural Light is the first of what we hope will be regular lighting features at Westlake Park. This eye-catching installation is best viewed during dusk and evening hours. Final operating hours are still being determined.