Chance Meeting Leads to New Path, Awards for Hope Green
Posted on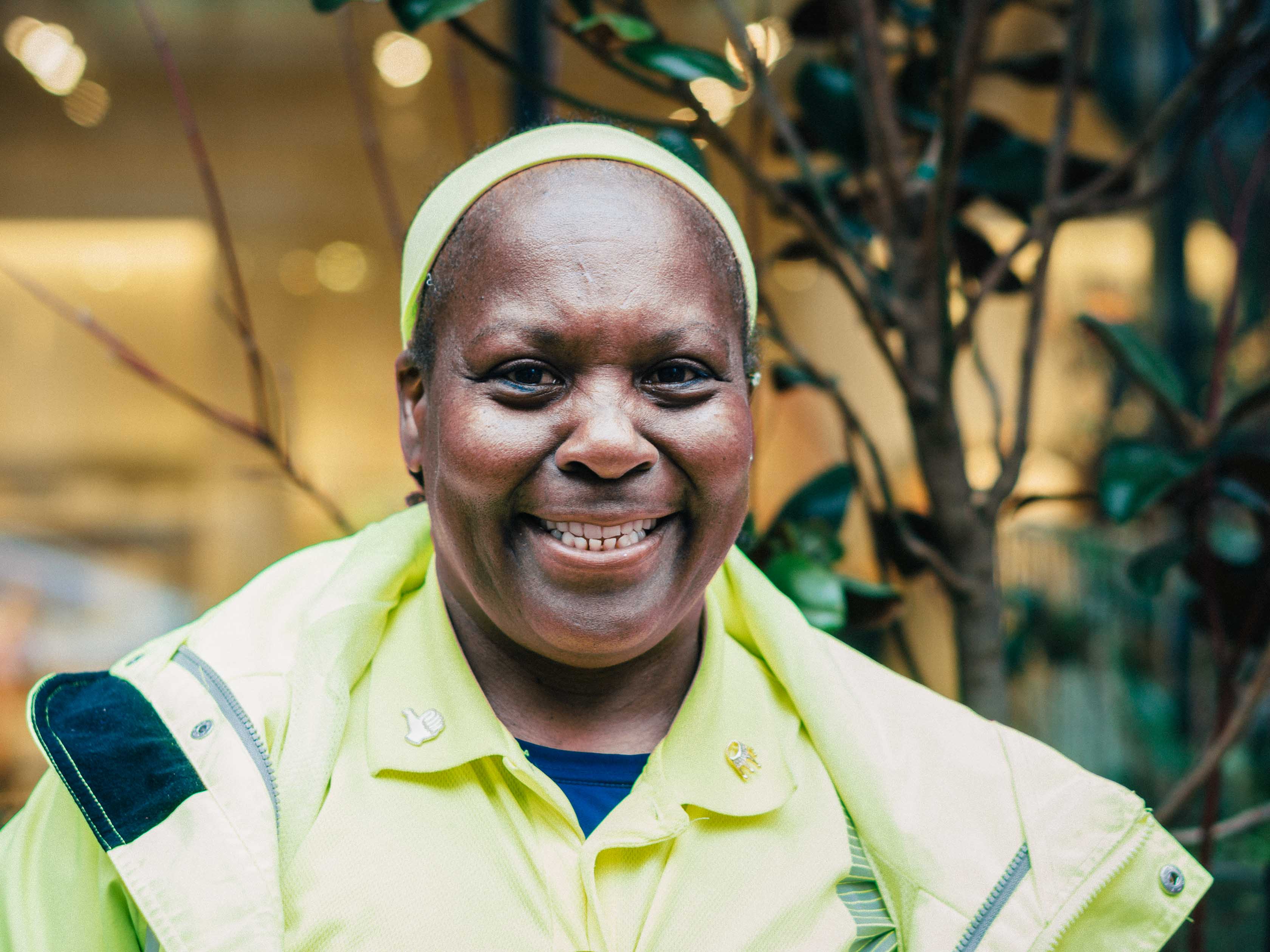 The Clean Team radio code "613" is an illegal dump on a city sidewalk. Ambassador Hope Green calls it in twice along a two-block stretch of Olive Way. Minutes after leaving headquarters, her rolling debris bin is full.
"I play a game with myself where I'm the only one cleaning downtown and I have eight hours to finish," Green says, turning into an alley to deposit the trash. "It makes the sections go by quick."
So quick it caught the eye of a local TV producer. A station employee said she'd noticed Green's hard work and complimented her on a job well done. The conversation eventually led to a televised story about the Clean Team's critical work clearing leaves from drains and sidewalks during the fall season.
Green tracks her activities on paper log sheets. Every stop to pick up garbage, erase graffiti or pull down an illegal poster is recorded. She covers a lot of ground and is meticulous about records. Even at 30 entries per page, it she fills a lot of log sheets. Green jokes management asked her to slow down.
"They told me to save on paper," she says.
Green grew up in the Watts neighborhood of southern Los Angeles. She moved to Seattle in 1995, then to Olympia where she raised three daughters. Reliable work was hard to come by, and in recent years she had to travel the country in pursuit of a steady paycheck. It was important to find something where she could make a positive impact.
The search was hard, though. Down on her luck and deeply depressed, Green says friends and family encouraged her to come back to Seattle.
Eventually, she did. Not long after returning, she saw Clean Team Ambassador Lee Townsend at work and was immediately interested. She stopped to talk and decided to apply.
"I wanted to make a difference," Green says. "I thought 'I want to be a part of that.'"
She's been a part of it almost every day since, missing just one day in more than five months. Two gold pins decorate Green's collar. One is a crown and the other a thumbs-up – both awarded for praise received from ratepayers.
It's easy to see why. Passersby greet Green by name, and she says hi to many others. Her pace is fast and she's detail oriented. In early days on the job she struggled to maintain her ideal clip, but says the physical activity helped her lose weight and get more fit.
The only time Green pauses is to admire pets at the City Dog! Club on the corner of Eighth Avenue and Olive Street. She doesn't have a pet, but if she did she would get two so they wouldn't get lonely.
Green is thinking about returning to nursing school, but she's committed to downtown. Advancing in the Metropolitan Improvement District is an attractive path. She loves the city and wants to keep it beautiful.
"I take pride in coming to work every day" says Green. "I feel my work is very important. It's nice to be needed." She laughs, "And they need me!"