Giant Valentine's Day ice sculptures melting hearts in Seattle
Posted on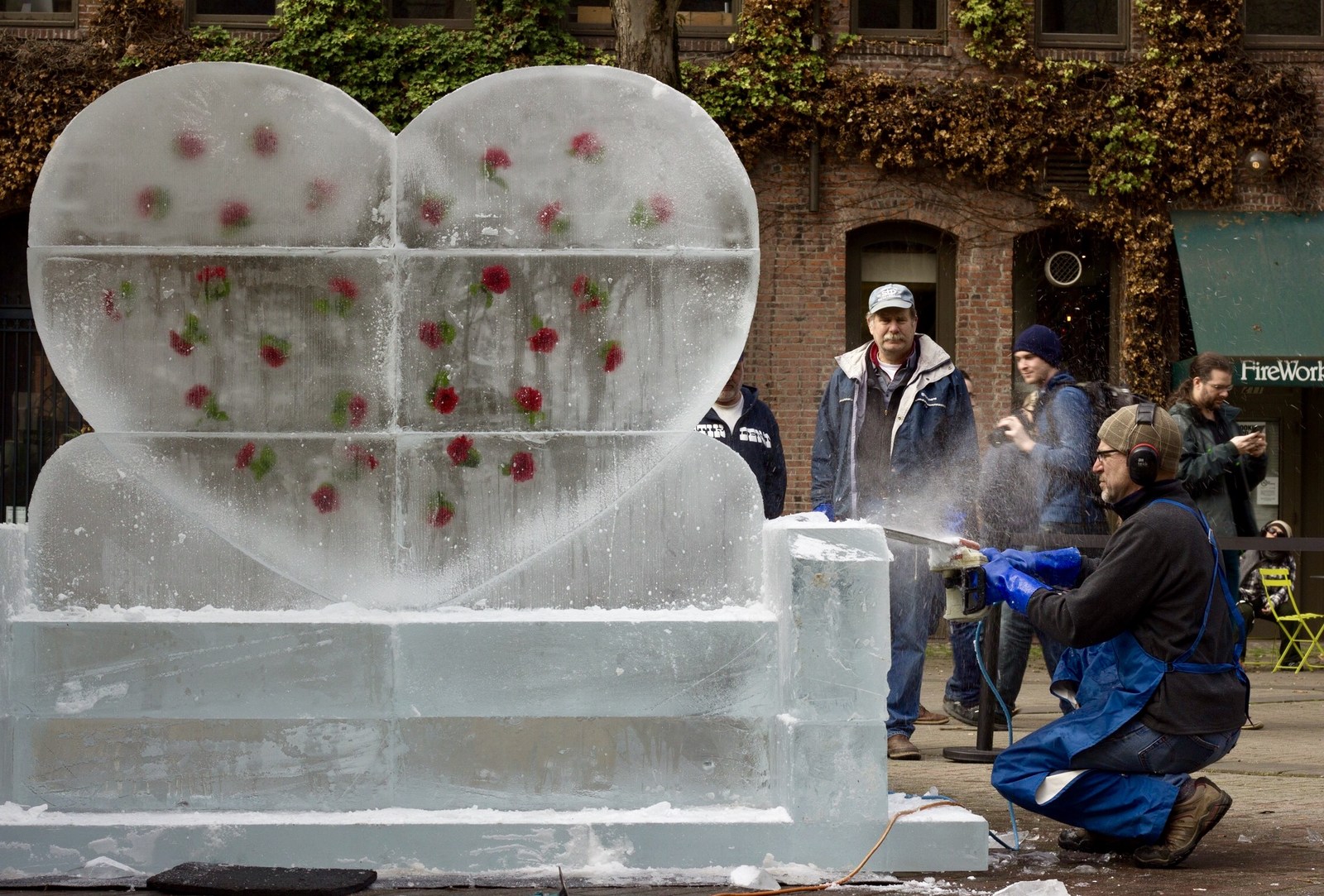 This article was originally published by KOMO on Feb. 14, 2018.
SEATTLE – Two new ice sculptures will be melting couples' hearts in downtown Seattle this Valentine's Day.
A giant ice "love seat" sits in Occidental Park, near Pioneer Square, and features a heart-shaped back that stands eight feet tall.
"So the romantics of Seattle can come down and get a photo op on the love seat," said Kevin Roscoe, the professional ice sculptor from Cascade Crystal Ice who created the love seat.
The more than two-ton sculpture also has roses embedded into the ice.
"The technical part of this was in the design, getting the roses in the proper places, so as the ice is freezing, I had to weigh down the roses," said Roscoe. "So, each one had to be marked and each block was specified for a specific location."
Roscoe stacked the bricks in their places on Tuesday, then began cutting and chipping away to create the giant love seat.
The love seat's ice bench is also outfitted with cushions, in case you're wondering.
Special glue fills the seams to protect the love seat from the wind and salty air from Elliott Bay.
Over in Westlake Park, the word "LOVE" is chiseled into four-foot ice block letters, which unveil a vibrant array of flowers hidden in the ice. The seven-feet wide sculpture weights about 1,400 pounds.
The Downtown Seattle Association hopes the sculptures will inspire people to bundle up and get outdoors for some cuddle time with their sweethearts.
"Have people spend their time down here, whether it's the lunch hour or afternoon," said Jennie Kovalcik, a senior events specialist with the Downtown Seattle Association. "Really big, fun interaction to encourage people to spend more time outside and in the parks."
"This also is a great selfie spot for people, so we will have props down here too," she added.
Kovalcik said both giant the ice love seat and the LOVE block will stay in the parks until they melt.
"I don't think anything else would be as fun or interactive for such a dull off season that tends to be pretty grey around here," she said.