Amazon opens its own mini rain forest within 'The Spheres'
Posted on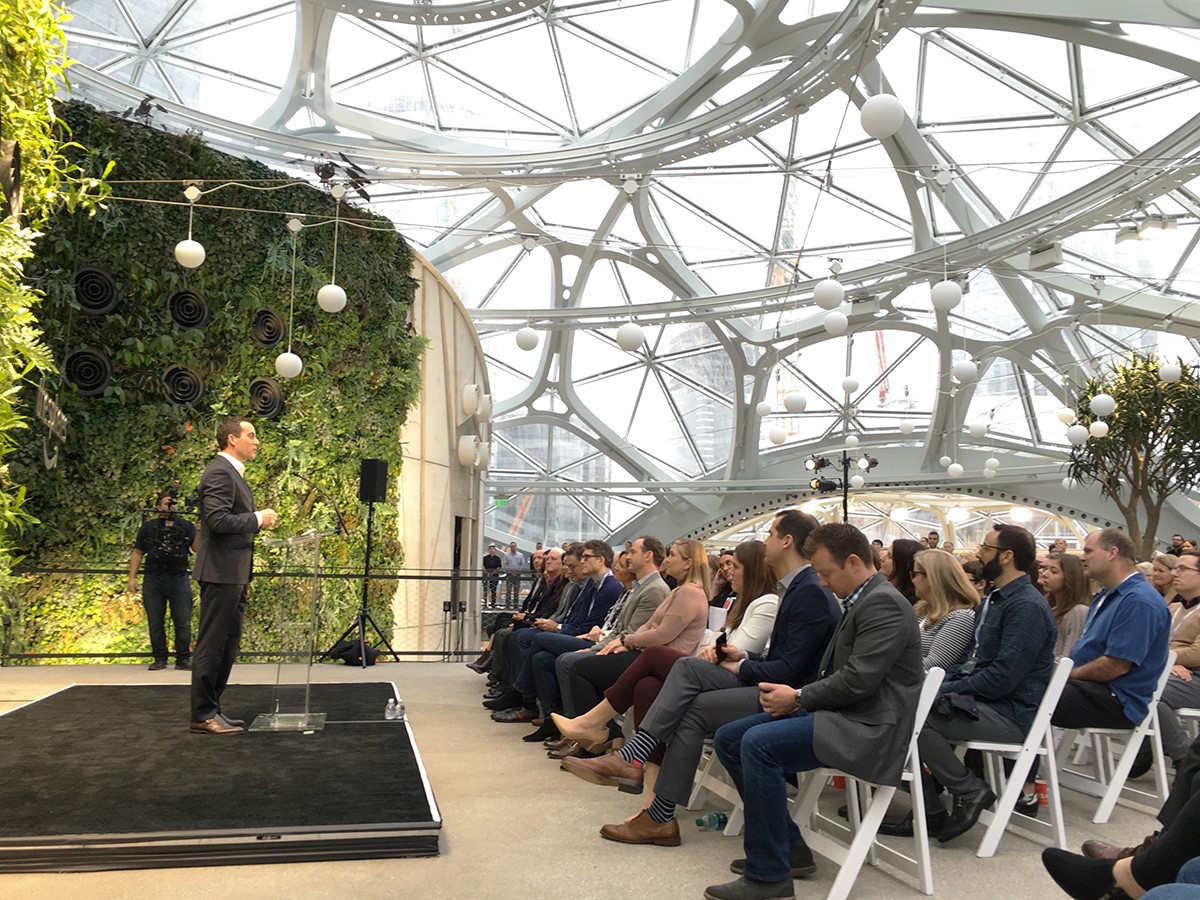 This piece was originally published by KIRO on Jan. 30, 2018.
After years of anticipation, construction and international press, "The Spheres" at Amazon's South Lake Union headquarters are open.
In case you missed it: The Spheres are three glass and steel domes in downtown Seattle. About 77,000 square feet filled with 40,000 plants: 400 species from five continents and 50 countries.
Amazon has created its own mini-Amazon and CEO Jeff Bezos was at the opening to cut the metaphorical ribbon with a pair of digital scissors.
"I brought a special friend with me today to help do the grand opening of The Spheres," Bezos said. "So if you would join me in directing your attention up above your heads for a moment."
Bezos raised his voice: "Alexa? Open The Spheres," he commanded.
A giant Alexa affixed to the ceiling changed colors and responded with a simple: "Ok, Jeff."
The Spheres at Amazon
The Spheres is a unique workspace for Amazon employees.
"There are no offices, no formal desks or anything," said Amazon spokesman John Sa. "It's more of a place where people have informal meetings. More like walking into an arboretum or a park."
Sa says employees have to make a reservation to visit the spheres so it doesn't get too crowded. And there are a couple of ways the public can check it out.
"The one that I recommend the most is called Understory and that is a visitor center where people can learn about The Spheres, they can learn about the project and learn about Amazon in the neighborhood," he said. "Go to www.seattlespheres.com and you can book some time to visit the Understory. Beyond that we also have Amazon HQ tours and that happens twice a week and that gets you into a guided tour of a couple of Amazon building and now The Spheres have been added on to that."
The Spheres are designed to be like a cloud forest, lots of tropical plants from cooler, mountainous regions to keep the temperature of the space comfortable for people. There is a four-story living wall, a waterfall, aquariums with fish from the Amazon River and near constant puffs of mist to keep the plants hydrated.
"We source our plants carefully," said Ron Gagliardo, Amazon's senior manager of horticultural services. "Jeff really wanted to have curated collections of plants. Carnivorous plants and also orchids and things. And also a plant collection that has meaning. So there are plants in here that we eat or are spices or are medicines. There are plants in here that are very rare in the wild."
And plants that have distinct scents.
"Last night I was finally getting ready to leave and people were kind of in a frenzy," said Gagliardo. "I was like, what's going on? They said, 'Someone is smoking weed in the building.' So I took our facility managers out to visit a plant. I said, 'I want you to meet a plant. He's a cloud forest plant from Ecuador. He is night blooming, bat pollinated.' As they got closer to it they said, 'Oh, we get it.' It smells like cannabis."
The Spheres are one of a kind, there is nothing else like it anywhere else in the world. The structures even impressed KIRO's famous plant guru, Ciscoe Morris.
"This is so amazing, though," Morris said. "There's not one wilted plant! Not one weed! How did they do that! This is so magnificent. I think it's the best collection of tropical plants I've ever seen anywhere in the world, and I've gone all over the world to see them. It's even better than the whole country of Costa Rica!"
Oh la la!
The Space Needle became a Seattle icon in 1962, and the President of the Downtown Seattle Association, Jon Scholes, thinks the spheres are a modern symbol of what the city has become.
"Already these buildings have expressed to the world that we do things a little differently in Seattle," Scholes said. "That innovation is in our DNA. That we don't do the ordinary. That we value our connection to nature, even in the middle of the most urban three blocks in Washington. These buildings embody Seattle's ethos. Home to a Seattle company, designed by a Seattle company, built by a Seattle company."