Downtown Seattle Association Celebrates Prosperous Year, Examines Benefits of Density
Posted on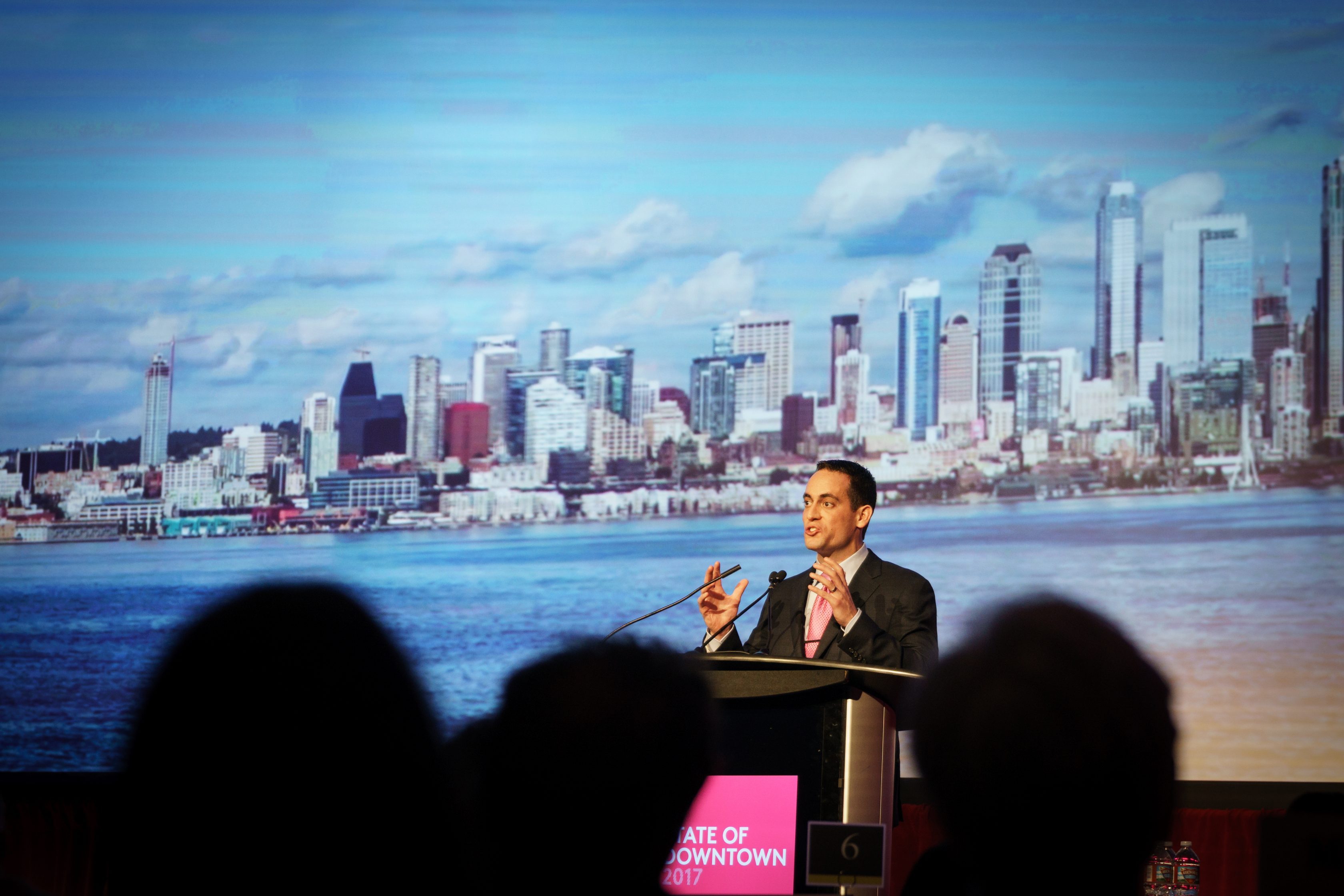 Speakers discuss innovative local projects and density as the key to a livable city
SEATTLE (Feb. 14, 2017) –More than 1,200 business and community leaders came together at the Westin Seattle today for the Downtown Seattle Association's (DSA) annual economic forum and report on the health of downtown Seattle.
DSA President and CEO Jon Scholes provided insights into the trends shaping Seattle's urban core and offered a glimpse into what downtown will look like once several high-profile development projects are complete.
"We live in a dynamic city where existing businesses are expanding and newcomers are taking advantage of unmatched talent and opportunities" said Scholes. "Since 2010 we have added 50,000 new jobs and the number of school-age children living downtown grew by 40 percent. Last year alone nearly 100 new restaurants opened downtown."
Themed "Cities as Solutions," this year's event featured speakers who discussed the importance of well-planned, people-centric urban design in an era of rapid growth and increasing density.
Vishaan Chakrabarti, author of A Country of Cities and founder of the New York-based firm Practice for Architecture and Urbanism, keynoted the event.
Chakrabarti spoke to the importance of cities and densification in an era of climate change, technological shifts in our economy, and widespread concerns about gentrification and loss of local character.
"In many major cities, like Seattle, the question is no longer 'Should urbanization continue? said Chakrabarti. "We know the value of a more dense and urban environment. The issue now becomes how to manage density well and design for people so we can maximize our quality of life and environmental sustainability."
The State of Downtown also featured a panel of local leaders representing transformative projects downtown. Matt Griffin with the Pine Street Group, Courtney Ryan with Urban Villages, and Julia Nagele with HEWETT, representing the Washington State Convention Center Addition, RailSpur, and Capitol Hill TOD and Gridiron, respectively. The panel was moderated by KIRO7 anchor Monique Ming Laven.
Panelists discussed their efforts to build and design in ways that elevate people and create rich urban environments.
State of Downtown attendees also received a copy of DSA's highly anticipated 2017 State of Downtown Economic Report. This annual report delves into the health of downtown by exploring economic indicators across four categories – living, working, shopping and playing. Analysis of these categories provides a clear picture of the current state of downtown and historical context for the information presented.
Highlights from the report include:
Seattle hosted 62 construction cranes at the end of 2016, more than New York and San Francisco combined.
Downtown hotels booked the equivalent of 3.5 million overnight stays last year.
Twice as many people work downtown (265,000) as in Bellevue – on only 1/8th the land.
12 million people visited Seattle Center last year.
If you are commuting into downtown it's probably not in a car: 70 percent of commuters choose transit, rideshare, walking, or biking.
More than 70,000 residents – one in 10 Seattleites – now lives downtown.
The population of school-aged children living downtown has grown by 40 percent since 2010.
There are 16 million square feet (277 football fields' worth) of office space in some stage of development downtown.
Print copies of the 2017 State of Downtown Economic Report are free for DSA members (limit five), and available to non-members for $40 by contacting the DSA at 206-623-0340. Additional research on downtown's economy and more is available at the Downtown Seattle Association's website.
Event photos and post-event interviews with DSA President Jon Scholes regarding Downtown Seattle's economic health are available upon request. Please contact James Sido 206-484-9921 or JamesS@downtownseattle.org.
About the Downtown Seattle Association (DSA)
Established in 1958, the Downtown Seattle Association (DSA) is a member-based nonprofit organization whose mission is to create a healthy, vibrant downtown. DSA advocates on behalf of business, nonprofit, arts and residential interests to create a downtown where everyone can live, work, shop and play.