Doubling the Hoops Space in Downtown Seattle
Posted on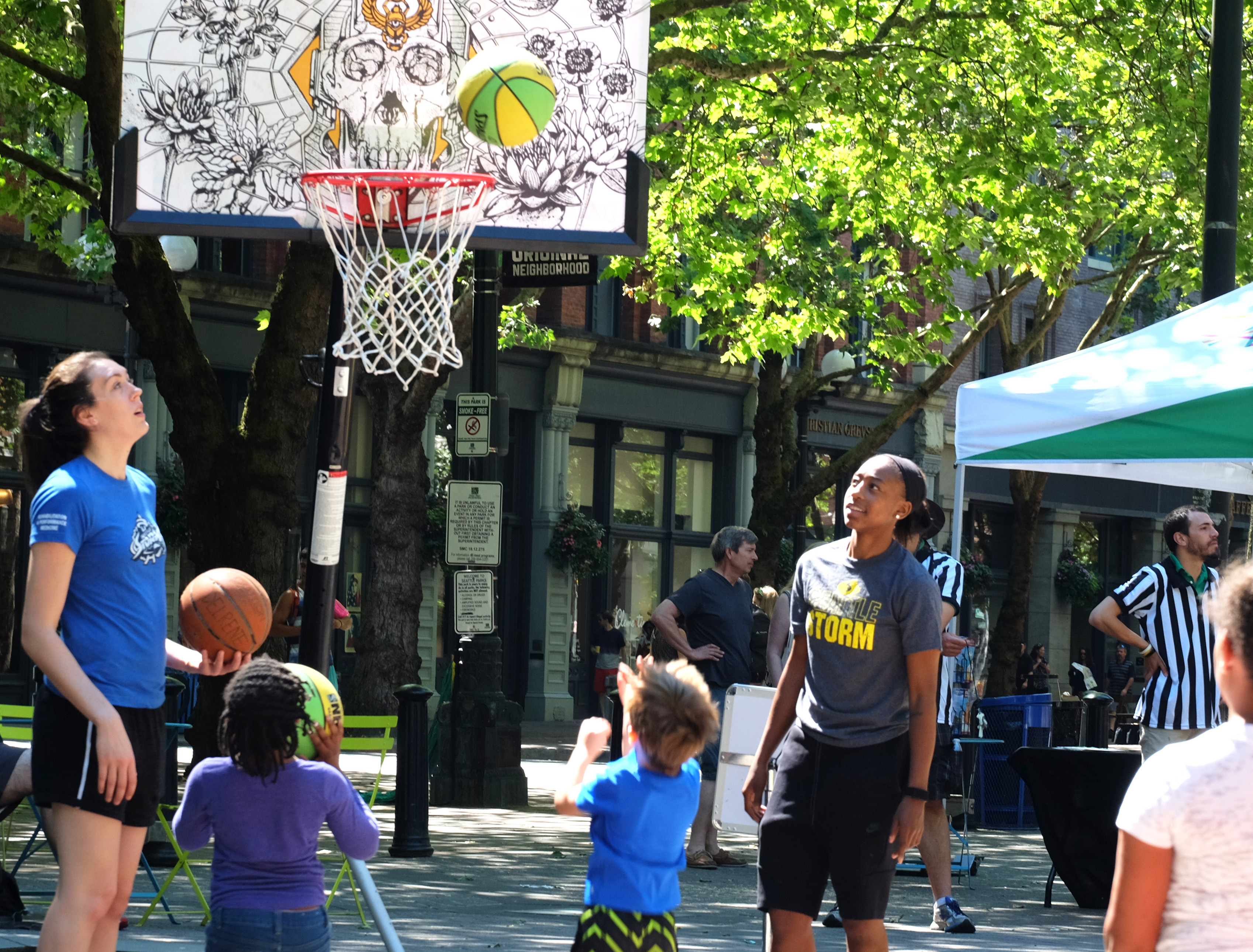 Downtown Seattle Association and the Seattle Storm bring the fundamentals to Occidental Square
(SEATTLE) – Two hoops. That's all it took. The Downtown Seattle Association (DSA) has doubled the number of public outdoor basketball rims in downtown Seattle by placing two hoops in Occidental Square.
This dearth of roundball real estate highlights the need for more accessible recreational space in downtown. To celebrate the addition of two much-needed hoops, DSA is welcoming Seattle Storm stars Breanna Stewart of Jewell Loyd to Occidental for "Storming the Square." The WNBA stars will teach basketball fundamentals to area kids in Occidental Square in Seattle's Pioneer Square neighborhood on Saturday, June 24.
"For a metro area that has produced dozens of professional basketball players in the last decade, it's striking that our outdoor public basketball space is so limited in downtown," said DSA President and CEO Jon Scholes. "There are more than 3,200 kids living in downtown and we need to make sure they have access to healthy recreation."
"We are excited to help the Downtown Seattle Association and the City of Seattle unveil this new basketball court," said Stewart. "Growing up, I was constantly playing outdoors, it's where I learned the fundamentals of the game, shooting, dribbling, passing, and built lasting friendships. I am looking forward to sharing that with these kids in Seattle on June 24."
The players will work with kids of all ages on fundaments drills that will make the game more fun – dribbling, passing and the basics of shooting the ball. Attendance and participation is free. And, there will be food trucks.
What: Storming the Square – Hoops in Occidental Square
When: Saturday, June 24
11 a.m. – noon
Where: Occidental Square – 117 S. Washington St.
DSA entered a five-year agreement with the City of Seattle in June 2016 to manage and activate Occidental Square and Westlake Park. DSA staffs each location with Park Ambassadors seven-days-a-week, provides games, food trucks, live music, books, tables and chairs and other amenities. DSA partners with Seattle Parks and Recreation, the Alliance for Pioneer Square, Friends of Waterfront Seattle and the Seattle Parks Foundation to enhance these parks and other downtown public spaces.
About the Downtown Seattle Association (DSA)
Established in 1958, the Downtown Seattle Association (DSA) is a member-based nonprofit organization whose mission is to create a healthy, vibrant downtown. DSA advocates on behalf of business, nonprofit, arts and residential interests to create a downtown where everyone can live, work, shop and play.  DSA entered a five-year agreement with the City of Seattle in June 2016 to manage and activate Occidental Square and Westlake Park.
About the Seattle Storm
The two-time WNBA champion Seattle Storm is one of six independently owned teams in the WNBA, the world's most successful women's professional team sports league. Established in 2000, the Storm is committed to bringing outstanding professional basketball to a fan base rich with tradition and support. The Storm leads the way for change in the community with outreach programs for youth basketball, health and fitness. The organization looks to be an inspiration for girls and women while providing support and motivation to better the Puget Sound. For more information or to purchase tickets, visit StormBasketball.com.