Op-ed: Grow Jobs, Not Traffic
Posted on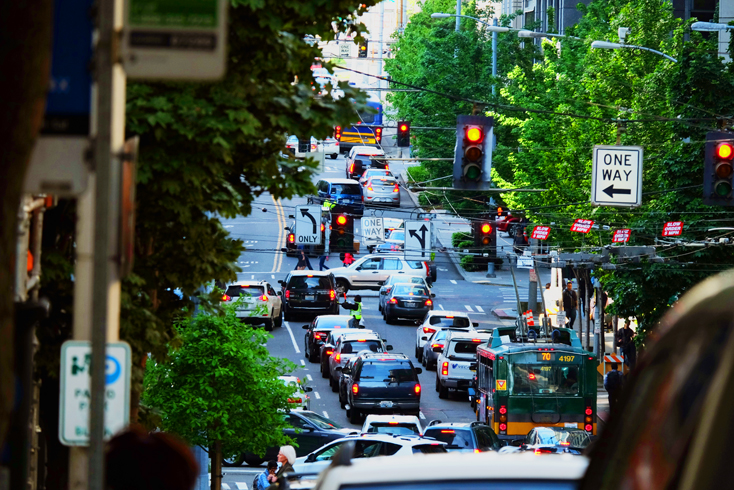 Originally published March 10, 2017 in the Puget Sound Business Journal
More than a quarter million people commuted into downtown Seattle today, arriving by bus, train, car, rideshare, bike, ferry and even by the power of their own feet. That's a big number, and it's getting even bigger. Downtown added 45,000 new jobs since 2010 and is expected to gain tens of thousands more in the next decade.
Looking at our already packed roadways, you might wonder how we can possibly add tens of thousands of cars to our daily commute. The truth is we can't. Unlike our population, our vehicular space is simply not going to grow; there's no room. If we want more workers in Seattle (and they clearly want to be here) commuters need travel options that expand capacity for everyone.
That's why the Downtown Seattle Association, along with King County Metro and the City of Seattle, created Commute Seattle. Our organization works directly with businesses, leveraging city, county and state-funded programs to offer the commuter benefits that employees want and our economy requires.
Companies are offering flexible schedules, telecommuting options and replacing parking allowances with prepaid ORCA transit cards. Employer-sponsored education helps new hires learn about transportation options and many firms offer incentives for carpooling or using vanpool services. Some employers are even using clever and creative incentives like gamification to reward employees for riding transit.
In 2016 alone, Seattle-area companies invested more than $100 million in employee transportation benefits and to support light rail and bus service expansion.
Those investments are successfully lowering Seattle's drive-alone rates despite our region's rapid growth and the decision not to invest in a mass transit system until recent decades.
Commute Seattle's biannual commuter survey shows our area making smart transportation choices as we grow, especially compared to other regions with increasing populations.
Impressively, downtown Seattle absorbed 45,000 new jobs in the last seven years while only adding 2,255 drive-alone trips at peak times.
As a result, we achieved our 10-year goal of increasing transit, rideshare, walking and biking to 70 percent of all trips downtown. Link light rail weekday ridership increased 89 percent since 2015 and overall Link transit use is up 66 percent year over year.
By contrast, in metro Dallas, four of five commuters drive alone and the number of people in Denver driving by themselves has eclipsed transit commuter volume downtown.
Seattle is making progress while other cities struggle because of private spending on commute improvements that benefit everyone. Employers are providing effective options and their workers are taking advantage of new transportation opportunities and infrastructure investments.
As Mitch Smith, CEO of Seattle-based design firm MG2 recently put it, "Our employees now have access to the best transit and rideshare options in the region. We support our employees with ORCA transit passes, showers and lockers because it aligns with our values and supports their health and well-being."
This is an exciting time to work, live and run a business in Seattle. The economy is booming and our region's population is growing. Thanks to collaboration between the private sector and government, we know we can keep Seattle moving even as we add people and jobs.
__________________________
Jonathan Hopkins is the Executive Director of Commute Seattle, a transportation management association that offers commuting education and resources to area businesses with a long-term goal of improving access and mobility. Commute Seattle was founded in 2015 by the Downtown Seattle Association, King County Metro and the City of Seattle.