City Maker Breakfast
Over a light breakfast, we discuss a new topic each month, exploring issues impacting downtown and the broader city. Guests hear from panels of experts and have time for Q&A. In 2018, we welcomed sponsoring partner Schwabe Williamson & Wyatt.
In partnership with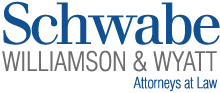 Most Recent Event
State of Commercial Real Estate & Construction in Seattle
At our December City Maker breakfast, we explored key findings from a brand-new survey — commissioned by partners Schwabe, Williamson & Wyatt — that provides insights into commercial real estate and construction industry trends. What's spurring confidence? What's keeping heads of industry up at night? What are our area's future growth opportunities?
Our panel explored the survey's findings and we heard what's on the minds of industry leaders.
Event Cancellation Policy
Can't make it to our event? That's okay. We understand sometimes calendar disruptions are unavoidable. If you have to cancel, we can give you a full refund up to 48 hours before an event. After that, however, we cannot provide refunds or credits because we've already given our final attendee counts to caterers and event venues. We appreciate your understanding.
For more information, contact:
Carolyn Tow
206-613-3205
carolynt@downtownseattle.org