City Council Unanimously Votes to Renew and Expand DSA/MID's Parks Management
Posted on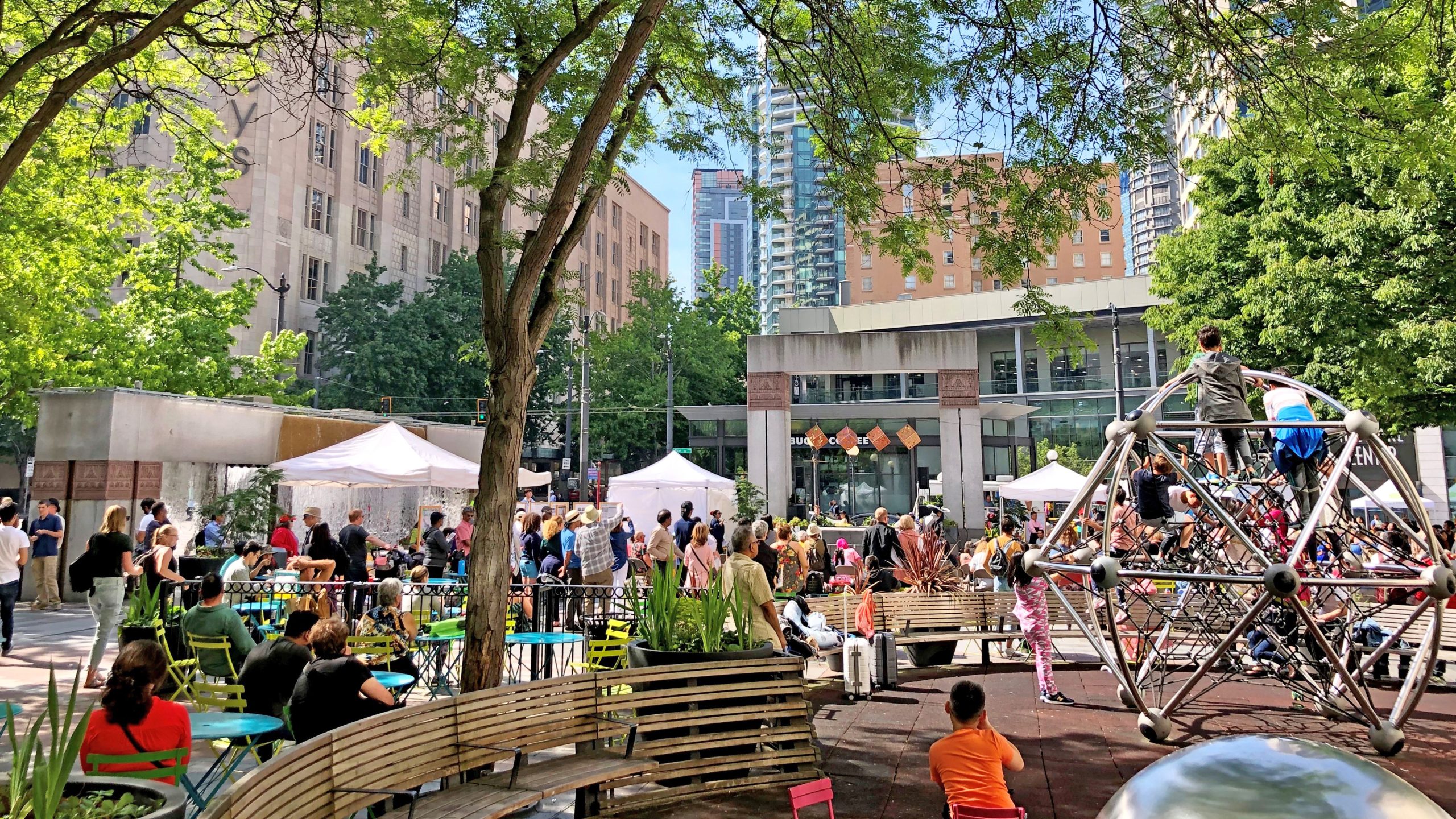 The Downtown Seattle Association is excited to announce the renewal and expansion of an agreement with the city of Seattle to manage select downtown parks. DSA has been overseeing Occidental Square and Westlake Park since 2016 following a one-year pilot. On Tuesday, Sept. 26 the Seattle City Council unanimously voted 9-0 to renew the existing agreement for six years and give DSA additional responsibility over Bell Street Park and Pioneer Park.
With funding from property owners within downtown's Metropolitan Improvement District, DSA provides staffing in the parks, as well as cleaning, security, amenities, daily activities, food trucks, art installations and special events, including free summer concerts and holiday programming. DSA also permits the parks for use by other organizations. 
"Since 2016, we've worked hard to turn these spaces around and make them welcoming for all," said DSA Vice President of Public Realm & Ambassador Operations Jennifer Casillas. "This renewal recognizes our past success and affirms the importance of our urban parks and public spaces to the overall health and vibrancy of downtown." 
"The Downtown Seattle Association's work in our city parks provides a sterling example of how the public and private sectors can partner to create a better experience for all our visitors and residents," said Seattle City Council member Andrew Lewis. "With the Parks Department working to keep our public spaces clean, safe and open, and DSA providing exceptional programming, events and amenities, our downtown parks can be vibrant places for people to recreate and relax in our city's urban center."
Highlights of the Renewed Agreement
Added Bell Street Park and Pioneer Square Park to management portfolio. Managed spaces now include Westlake Park, Occidental Square, Bell Street Park and Pioneer Square Park 

Increased Seattle Parks and Recreation funding to support park activations and Park Ranger services

More frequent assessment and stronger attention to maintenance and infrastructure improvements by SPR to ensure visitor safety and park usability

Stronger sponsorship and concessionaire partnerships

Strengthen data collection and analysis to inform programming

Increase efforts to secure Women- and Minority-Owned Businesses as park vendors and partners
Occidental Square and Westlake Park by The Numbers
DSA has counted more than 2.5 million visits to Occidental Square and Westlake Park since 2017

From July 2022-June 2023, DSA has overseen 9,500 hours of activation and programming 

Since 2016, every $1 of SPR funding leveraged an additional $6.67 in private funding (exceeding the 3:1 contractual requirement)
With a renewed agreement, DSA will continue to serve the hundreds of thousands of annual park visitors, and successfully fulfill our mission to create a healthy, vibrant downtown for all.