Public-Private Partnership to Connect and Revitalize Waterfront Parks
Posted on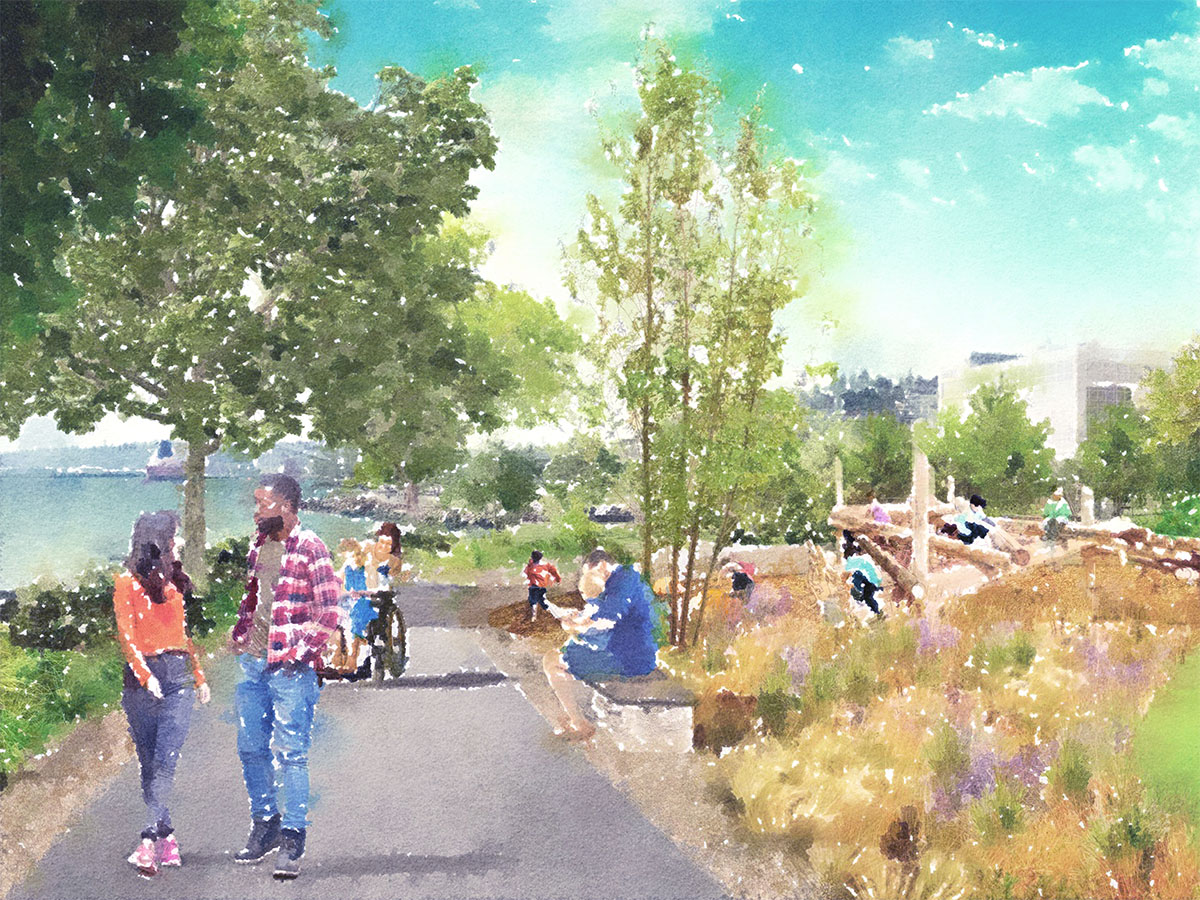 Big changes are coming to a key section of downtown's waterfront thanks to an unprecedented public-private partnership to connect, restore and revitalize parks along Elliott Bay.
Elliott Bay Connections will include a new pedestrian and bicycle greenway linking the new Waterfront Park to the Olympic Sculpture Park (from Pier 62 to Pier 70) and restore and revitalize Myrtle Edwards and Centennial parks. Private funding from Melinda French Gates, MacKenzie Scott, the Diller-Von Furstenberg Family Foundation, and the Expedia Group will underwrite the estimated $45 million cost of construction.
DSA is serving as the project implementation partner, bringing together a team of Seattle-based firms experienced in public space improvements, public agency requirements and community engagement.
"Elliott Bay Connections is a major game-changer for downtown's waterfront. The greenway and park restoration improvements will benefit Seattleites of all ages and abilities with more opportunities to recreate and enjoy nature in the heart of the city," said Sung Yang, chair, DSA Board of Directors and principal, Pacific Public Affairs. "DSA is pleased to partner on this project and grateful for the significant investments being made. This is more proof of the progress being made to revitalize downtown under Mayor Harrell's leadership."
A new landscaped, protected greenway for pedestrians and recreational cyclists will run along the east side of Alaskan Way for nearly a mile from the northern end of Waterfront Park at Pier 62 to the Olympic Sculpture Park. The greenway will update sidewalks and replace obsolete trolley tracks with an accessible path designed for walkers and those using scooters, wheelchairs or bicycles.
The greenway would total more than two and a half acres of new public space. This new greenway complements the Alaskan Way Safety Project, previously announced by the city of Seattle, which will provide a protected bike lane on the west side of Alaskan Way.
Community engagement will kick off in fall 2023, with the public invited to give input on the proposed greenway and desired park improvements. Following public input, design concepts will be developed and presented to the public before actual design, permitting and construction proceed. Upon completion, the donors will provide funding for a decade to support stewardship, with concurrence by the city and Port of Seattle on sustainability and standards of care.
Connections will be undertaken at zero cost to taxpayers with the goal of delivering a new greenway and park improvements by June 2026 when Seattle hosts the World Cup.