Metropolitan Improvement District Renewed for Another 10-year Term
Posted on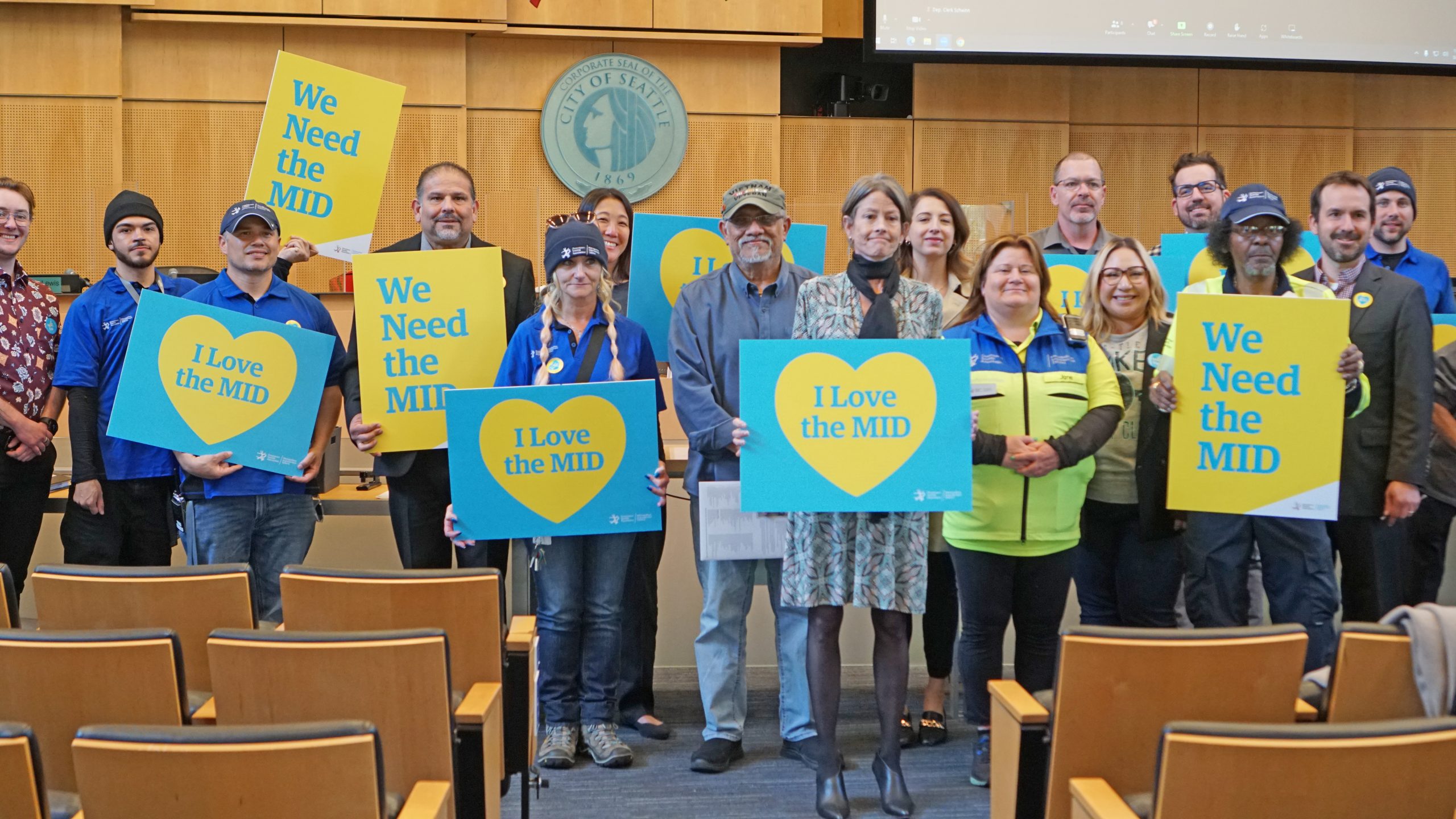 Seattle City Council extends cleaning, safety and hospitality services until 2033
(SEATTLE, May 2, 2023) – The Seattle City Council voted unanimously today to renew the Metropolitan Improvement District (MID) for an additional 10-year term. Managed by the Downtown Seattle Association and funded by downtown businesses and property owners, the MID's 130 ambassadors provide cleaning, concierge and park services across 285 blocks of Seattle's urban core. 
"MID services are possible because of the investment of downtown property owners," said DSA President & CEO Jon Scholes. "Thank you to Mayor Harrell and the City Council for recognizing the importance of these services and the strong support for their reauthorization within the downtown community. MID programs are essential to downtown's continued revitalization."
Founded by DSA in 1999, the MID funds a broad range of services in downtown that supplement those provided by the city. MID services include sidewalk and alleyway cleaning, public safety, on-street hospitality, activation of downtown parks and public spaces and more. The MID's work is designed to keep downtown's participating neighborhoods inviting, clean and safe for all.
Since 2013, the MID has:
Collected 10 million gallons of trash. 

Disposed of 115,000 incidents of human or animal waste. 

Collected 94,000 syringes.

Removed 362,000 graffiti tags 

Conducted 73,000 welfare checks for those living unsheltered.

Provided directions to tourists and visitors 859,000 times.
Prior to the MID's passage, the Council saw tremendous turnout from small businesses, property owners, arts and nonprofit leaders, residents and other downtown stakeholders in support of renewal. In addition, downtown ambassadors shared personal stories and reflected on the importance of the MID's work. Their collective testimony was a powerful reminder of the MID's importance to downtown. 
After passage, Seattle Mayor Bruce Harrell is expected to sign the legislation to extend the MID MID's extension on May 18. The next 10-year term begins July 1, and extends through June 2033.
The comments below capture MID's critical role and the goodwill ambassadors have built in the heart of Seattle:
"The work MID has done is incredible. Earlier this year we had a MRSA and hepatitis B outbreak. And when they came into the alley and cleaned the trash, our employees were able to come into the office without MRSA on their feet, without worrying about hepatitis B because of the cleanliness that they provided. Our team also really respects them, the way they engage the clients that we serve that are very vulnerable and marginalized, they do it with dignity and respect.
Steven Bullock, deputy director of operations for Downtown Emergency Services Center
"We are down in the Joshua Green building down on Fourth and Pike, so we're in the middle of everything. I happen to park on Second and Pike every day, and I make that walk from Second and Pike to Fourth and Pike. Every day I see this great team out here…making the downtown streets hospitable, safe and bringing vibrancy to the downtown urban core…This group does tremendous work. As a downtown leaseholder who signed a long-term lease in 2019, we love the work they do and couldn't imagine a different situation."
Chris Copacino, executive director of business development for Copacino Fujikado
"I'm very proud of the work we do. We help create a positive environment for our community and I find the work very meaningful. As an example, I had a guy come up to me a few months ago and thank me for saving his life. Said he was in detox and was going to meet his kid. That's a memory I'm going to hold for the rest of my life. When I reflect back on work I did with this company I'm going to be very proud of my time here."
 

Ezekiel Robertson, DSA/MID Ambassador
"Before I started working for the MID, my day-to-day struggle was very real. I was feeling the effects of the post-pandemic crisis. What I witnessed joining our company was quite intriguing. As I was accepted into this new position as a Clean Team ambassador, I found myself helping shape the future of Seattle and its development…just knowing that our strong team of employees are out every day of the week, all year round, providing a clean and vibrant urban core reassures us of the positive impact we have on this community."
Cherie Truncer, DSA/MID Ambassador
About the Downtown Seattle Association (DSA)
Established in 1958, the Downtown Seattle Association (DSA) is a nonprofit membership organization whose mission is to create a healthy, vibrant downtown for all. By advocating on issues including transportation, economic development and the urban experience, DSA works to ensure that downtown remains a great place to live, work, shop and play. DSA also founded and manages the Metropolitan Improvement District, a business-improvement area spanning 285 square blocks downtown.