PSBJ: PCC Community Markets finds success in downtown Seattle
Posted on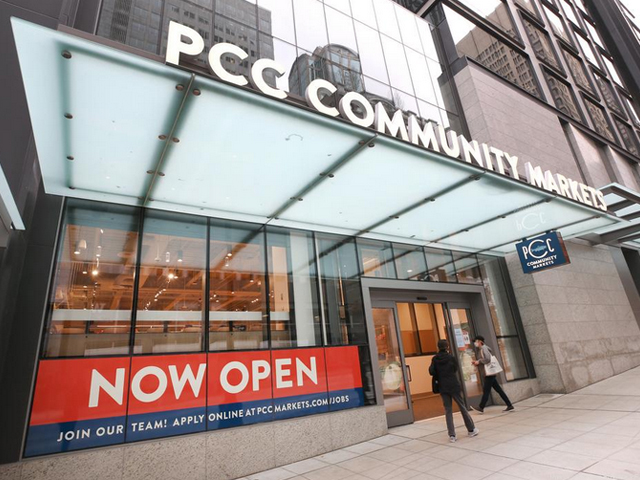 This story was originally published by the Puget Sound Business Journal on Oct. 26, 2022.
Jai San Miguel, who manages PCC Community Markets' new store in the Rainier Square tower, is bullish on doing business in downtown Seattle.
The Seattle-based natural foods co-op had long planned to expand to the city's central business district, but former CEO Suzy Monford paused those efforts in 2021, citing concerns over public safety, hazard pay, staffing shortages and a lack of foot traffic.
Under new leadership, the Rainier Square store opened in January at 1320 Fourth Ave. And it now leads the 16-store chain in growth in weekly customer trips and average sales over the seven-month period since March.
"It's been pretty awesome," San Miguel told the Business Journal. "We have a pretty decent crowd in the morning, and our lunch crowd is just crazy."
The store is fully staffed, he added, with strong weekday and weekend traffic, buoyed by a lunchtime rush. Between 11 a.m. and 2 p.m., the store sees a 166% to 300% increase in transactions.
He credits the success to the mix of downtown residents and office workers seeking grab-and-go options, in addition to commuters taking advantage of the store's validated parking after work.
Downtowners flock to brand new PCC Community Markets store in Seattle
Lunch business is bolstered by PCC's participation in Peach, a lunch delivery app that lets employers order from local restaurants and grocers. Some 25 downtown Seattle employers use the app, and 20% of its transactions are at PCC, the co-op said.
When the downtown store opened, it signaled another positive step in the city's uneven retail recovery, during which neighborhoods like Capitol Hill rebounded from Covid-19 pandemic closures more quickly than the central business district and Pike-Pine retail corridor.
Jon Scholes, head of the Downtown Seattle Association, said at the time that the opening should give the city "optimism and confidence in the renewal" of downtown. Since January, office worker recovery has nearly doubled, according to DSA data, though it's still just 40% of the pre-Covid average.
Public safety concerns have been at the center of downtown's slower recovery. For PCC, the downtown store has yet to experience any heightened level of disturbances or issues, San Miguel said, crediting the store's hired guards (present at all PCC locations) for the safe atmosphere.