Downtown Seattle attempts to entice workers from remote settings with a revitalized atmosphere
Posted on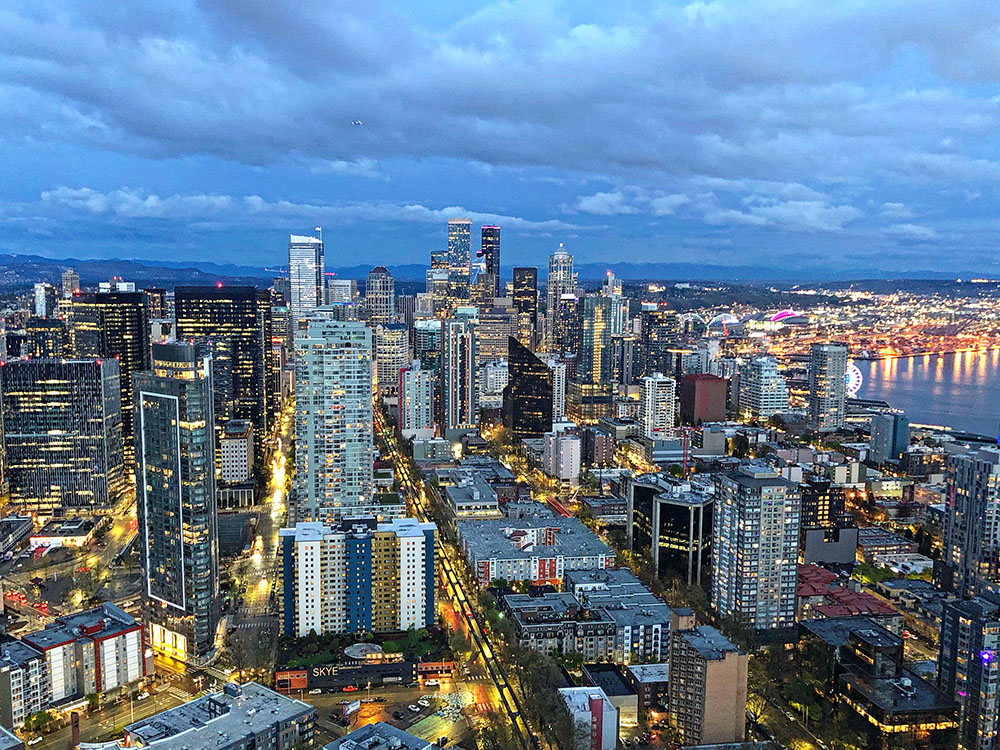 This interview with DSA President & CEO Jon Scholes was originally published by 97.3 KIRO News Radio on Aug. 27, 2022
BY GEE SCOTT AND URSULA REUTIN SHOW
While Seattle's recovery efforts downtown are in full swing for businesses and tourism to flourish at a pre-pandemic level, workers returning to the office and foot traffic remain well below expectation.
While remote-based employment became a popular solution for working through a pandemic, Jon Scholes, President and CEO of the Downtown Seattle Association (DSA) cites a survey that only 18% of employees want to work remotely full-time.
"Most people say they want to be back in the office or they want to have the option of working remotely and being in the office," Scholes told The Gee and Ursula Show. "And I think that's where we're going to end up, where we have a majority of people back in the office, not five days a week, but maybe a majority of the week."
Offices are just 42% as full as they were before COVID-19, according to DSA data.
"We think downtown Seattle can still be very relevant and will be very relevant to work," said Scholes. "The jury's still out on what work is exactly going to look like six months or a year from now, but I think downtown Seattle is better positioned than most downtowns to get back lots of activity, because we've got lots to offer. We're well balanced. We've got a good mix. And we've got more people living downtown than ever before."
Scholes believes the DSA's investments in outdoor events, concerts, and happy hours in parks and public areas will continue through the fall as a way to incentivize engagement in the downtown space.
As of this spring, smartphone activity in downtown Seattle was at 52% of its 2019 levels, according to The Seattle Times. Among the 62 cities researched, Seattle ranked No. 40 in terms of recovery.
"I think perception is a big part of this. Folks that haven't been to downtown maybe in two years thinking it's all boarded up, closed down, nothing's open, a ghost town, that's not the case at all," Scholes said. "We will welcome 3 million visitors in July of this summer. That's about the number of people that were visiting downtown in July of 2019. So we're working our way back. No doubt we have some challenges, but we're on the right course here."
With the continued struggles in hiring and recruiting police officers in Seattle, crime continues to rise. According to the Seattle Police Department, there were 47,773 reported crimes last year, a 10% increase from 2020, and up nearly 13% from 2019, with violent crime and property crime both increasing. Downtown Seattle is one of the most crime-riddled areas in the city.
"We're making progress in that regard under the leadership of our mayor and our city attorney, Ann Davison. When we look at winter to spring, we saw nearly a 20% reduction in violent crime and property crime between those two periods," Scholes said. "A year ago, there were 100+ locations in downtown with tent encampments, many of them that contributed to violent behavior and putting a lot of vulnerable individuals at risk."
Scholes claims there are now less than 10 locations with approximately 13 tents in the greater downtown today.