GeekWire: The future of downtown Seattle: Reasons for hope, concern — and opportunity to change for the better
Posted on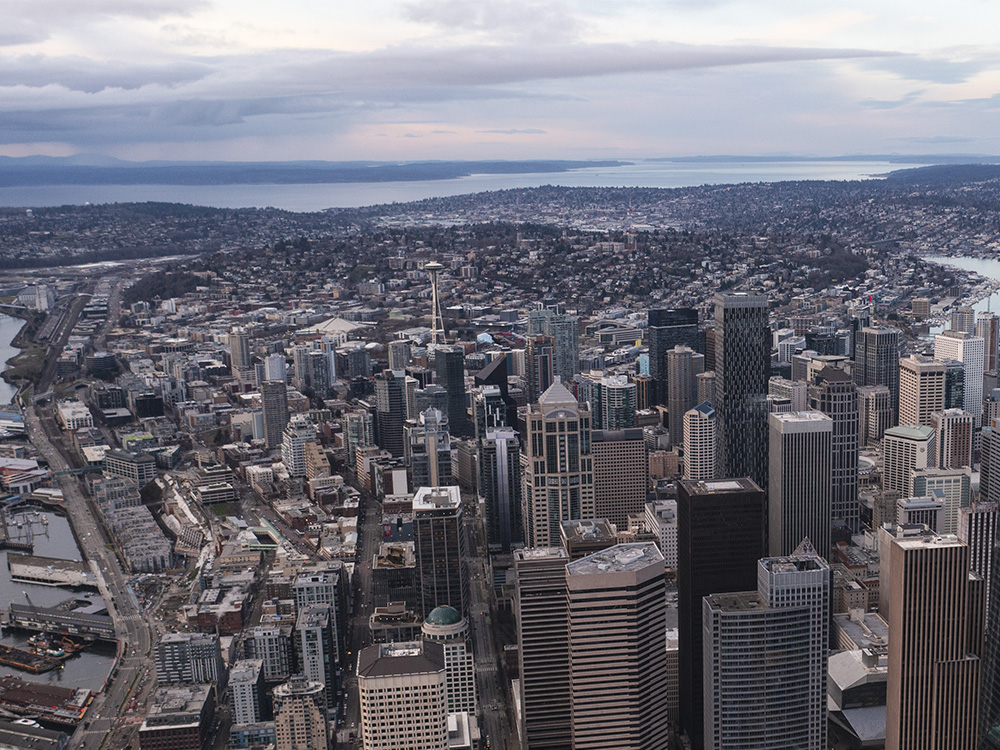 This story was originally published by GeekWire on March 18, 2022.
By: Mike Lewis
By some statistical measures, Seattle's downtown is back. Residents have returned in pre-pandemic numbers. Tourism, certainly at Pike Place Market, resembles its crowded former self. And traffic is nearly as lousy as it was in 2019.
But other data tell a far different story. Violent crime in downtown Seattle has doubled since 2017 with the International District and the 3rd and 2nd Ave. corridors near Pike and Pine ranked as some of the most dangerous blocks in the city. A recent survey revealed that only one of every four visitors to downtown feels safe.
And the vast majority of the tens of thousands of downtown workers who departed for remote work in 2020 remain out of the office and out of downtown.
With this alternately grim and encouraging data as a backdrop, the Downtown Seattle Association issued its annual State of Downtown report Thursday with one key question in mind: Is downtown Seattle's future trending upward or just the opposite?
The answer, as it turns out in the DSA's own report, is complicated.
"We cannot normalize the conditions on 3rd Avenue," said Jon Scholes, president and CEO of the DSA. "There are a record number of people living unsheltered downtown, and certain neighborhoods are experiencing unprecedented retail theft and violent crime."
But Scholes, speaking at DSA's annual event in Seattle Thursday — its first in-person event of its kind in two years — noted that downtown, which generates 50% of the city's business tax revenue, appears poised for a comeback.
Thousands of residents who moved out of downtown during the pandemic have returned. Many of those downtown companies which sent workers home when COVID-19 surged actually grew over the past two years and have started to bring workers back. Approximately 170 new street-level businesses have opened in the neighborhood.
Tourist foot traffic in the summer of 2021 was nearly at 2019 levels, according to the group's report.
Sara Nelson, recently elected Seattle city councilmember, said there is much to be optimistic about. It's true, she said that downtown has started to claw back the hundreds of businesses that closed since 2020. But now the city must put its effort into make the neighborhood safe again for its residents and workers.
Tech companies that pushed Seattle's growth while deepening its growing pains have shown reticence about returning to downtown. Some tech bosses have said they never will return.
One week ago, Amazon told some of its downtown staff to work at other locations due to recent crime around its downtown Seattle office at 300 Pine St.
Nelson said fixing this must be the city's top priority moving ahead. "How many employers have to close because their employees don't feel safe?" she asked. "We need to bring back community policing teams."
That isn't going to be easy, attendees noted. Seattle has lost nearly a third of its police force over the past four years due to retirement, police jobs elsewhere, career changes and dissatisfaction with the former city council. Nelson, Scholes and others argued the the city can't expect downtown to feel safer without an influx of police.
"This is a worker safety issue," Nelson said. "Public safety also is an equity issue."
And as an equity issue, it can't be solved by police alone, added Marc Dones, the CEO of the King County Regional Homelessness Authority. Dones' organization is leading a new effort backed by donations from Amazon, Microsoft, Starbucks and others aiming to dramatically reduce homeless camping in downtown.
Noting the number of tents in downtown — the report's data shows that the downtown tent population in December 2021 was 900% higher than in 2019 — Dones said simply moving the population elsewhere doesn't help or solve much.
Solving the issues that lead to the spike in the city's unhoused population is going to take a nuanced approach coupled with patience and a civic willingness to stay at the table even when disagreements flare, said Dones, who spoke at the meeting on a panel with Nelson.
People see tents and the unhoused and they conflate it with crime, Dones said. "We have to let go of the narrative that there are heroes and villains," he said.
But for all of the talk and the data geared toward getting downtown back to its pre-pandemic state, one expert said maybe that's not what the end goal should be at all.
Author, professor, urban expert and keynote speaker Richard Florida said Seattle has an opportunity to change its downtown for good and for the better.
First, downtown Seattle should not be thought of as a place to warehouse day workers in tech and other businesses, he said. Instead, Florida argued that a modern urban downtown should be about community and connectivity more than only about working.
Seattle's downtown had become one of its largest residential neighborhoods with 90,000 residents. It needs to work on the amenities found in other neighborhoods where people linger such a parks and open spaces and mixed with retail.
The persistent myth about remote work is that these workers stayed home, he said. Many times, they went to a coffee shop or a "third place" to both work and be around people. The future of downtown is to make it a place where people stay, he said, and not a place where people only work.
"Seattle is perfectly placed to make this change," he said.