My Northwest: Seattle councilmember pushes to expand program addressing downtown homeless camps
Posted on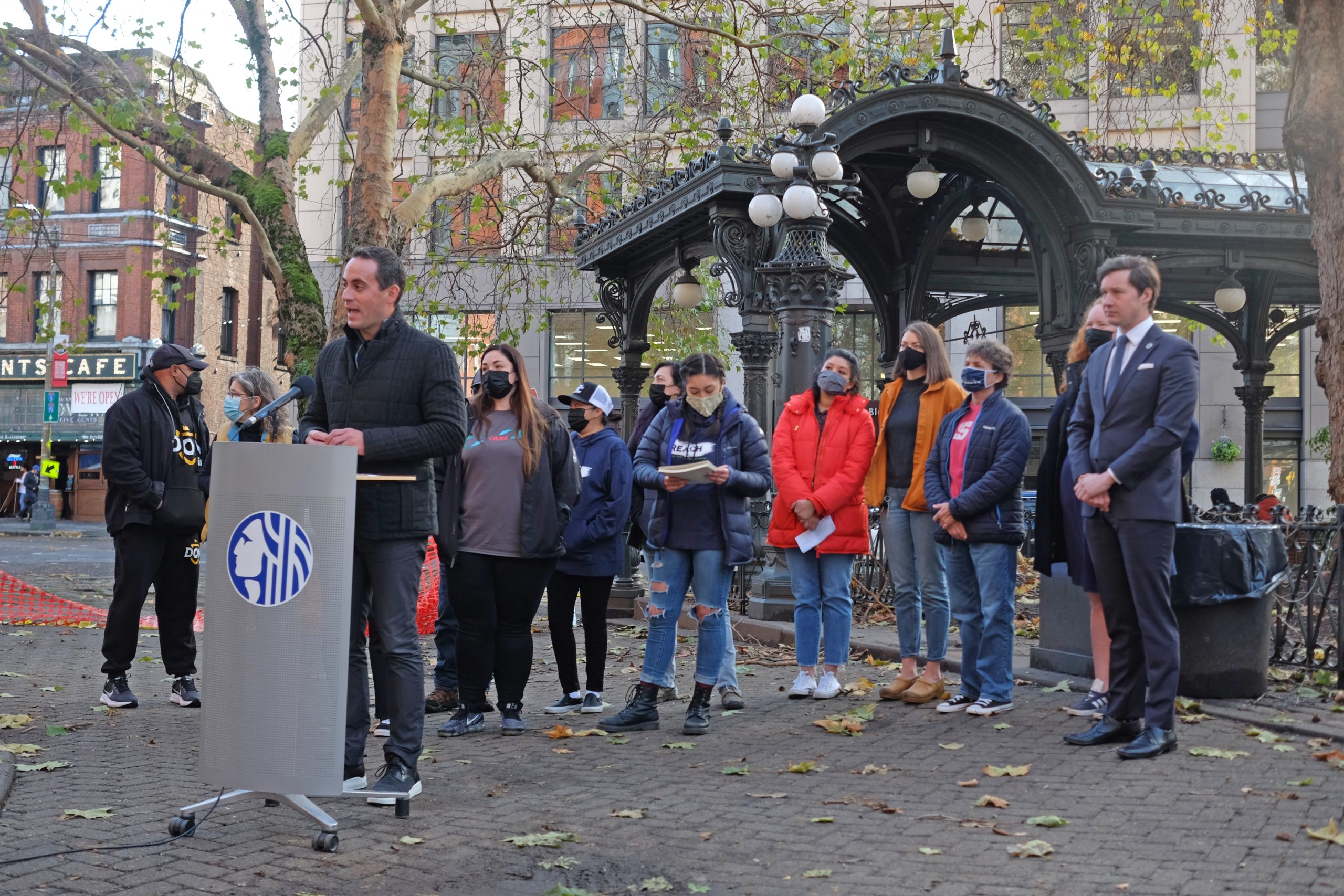 This story was originally published by My Northwest on Nov. 12, 2021.
Seattle Councilmember Andrew Lewis is calling to expand the city's JustCARE program, designed to address problematic homeless encampments in the downtown core.
JustCARE operates as a collaboration between city leaders, businesses, homeless individuals, and behavioral health outreach workers and others, to offer quick temporary housing and wraparound services that make people living in encampments more inclined to accept shelter and services.
Up until now, the program has been limited in its scope, but has seen success in clearing several downtown Seattle encampments, all while getting unhoused residents into shelter spaces. So far, it's been called on to assist with camps at Third and Pike, City Hall Park, and most recently this week, at First and Yesler.
Outreach work along Third and Pike marked its debut in June of 2021, when 33 people who had been living on the street in the area were voluntarily moved into available homeless shelter spaces. Of those, 14 were placed into tiny homes through the city's HOPE Team, while another 15 to 17 were moved into hotels run by JustCARE partners.
This week's clearance of the encampment at First and Yesler resulted in all 31 residents voluntarily accepting offers of shelter.
That's part of what Lewis has described as a "team effort" that eliminates the region's more siloed approach, and instead has nonprofits and service providers pooling resources with county and city leaders.
But Lewis says the model is only funded through June, and limited to just a handful of areas. Lewis and others working on JustCARE are hoping to garner more support to continue the program and take it citywide.
"If we're resourceful enough, we can deliver those services and we can continue to replicate the type of outreach we did here [in downtown]," he said during a news conference this week.
The effort has garnered support from other groups as well, including the Downtown Seattle Association (DSA).
"We must continue to move with urgency to help the most vulnerable off the streets of downtown and ensure parks and public spaces are available and accessible to all," DSA President Jon Scholes said in a news release. "JustCARE is a proven and compassionate approach to meeting the needs of the unsheltered and ensuring the downtown neighborhood is healthy and welcoming for all."
Moving forward, Lewis plans to bring together leaders in Seattle city government, King County, and the nascent Regional Homelessness Authority to discuss ways to continue supporting JustCARE, and hopefully expand it to include other neighborhoods.
KIRO Radio reporter Hanna Scott contributed to this story.