Celebrate the Season and Make Some Memories Downtown
Posted on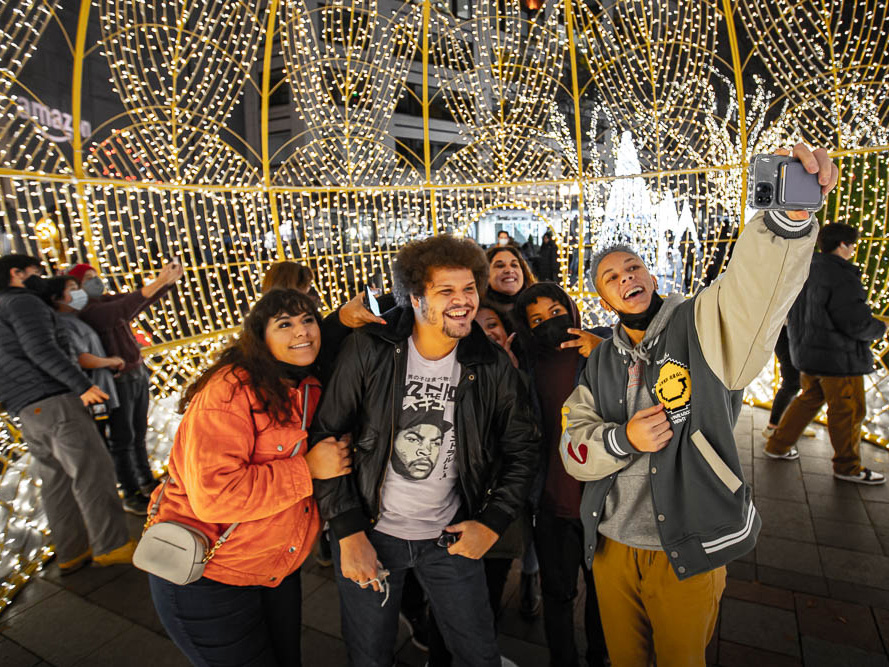 We're lighting up the center city and hosting an array of holiday activities for all ages, including live music, augmented reality, a seasonally themed scavenger hunt and more.
Westlake Park and Occidental Square are dazzling with giant light sculptures constructed from tens of thousands of bulbs. Want to take a picture inside a present? Under a tree? Or alongside a reindeer? Then head to the parks now through Jan. 9. The sculptures are part of our Holiday Lights & Delights, presented by Amazon. DSA is also raising thousands of holiday lights in locations across downtown, including Bell Street and First Avenue. Light displays are free and family-friendly.
"Every year we look forward to decking out the heart of the city for residents, workers and visitors," said Jennifer Casillas, DSA Vice President of Public Realm and Ambassador Operations. "Whether you're looking for that perfect present, family fun, a great meal or just want to take in the incredible array of lights we've installed, there really is no place like downtown Seattle during the holidays."
In addition to soaring light sculptures, a must-see 40-foot tree in Westlake Center and the return of the iconic Holiday Star, we've got a sleighful of other activities and events to help you celebrate the season. You can find more information about all of our events as well as other downtown holiday activities at Love, SeaTown.
Augmented Reality — Through Jan. 10, 2022
Discover a magical winter wonderland hidden in plain sight with four augmented reality adventure hotspots located in Westlake Park and Occidental Square. A smartphone with Snapchat is required to participate. Augmented Reality is part of our Holiday Lights & Delights, presented by Amazon.
Sweets & Treats in Westlake Park — Dec. 4, 11 & 18 from 2–6 p.m.
Warm up with sweet treats in Westlake Park each Saturday now through Dec. 18. Guests can enjoy free s'mores, games, live performances and other family-friendly park activities. Hot cocoa and treats will be available for purchase.
Holiday Concerts — Dec. 5, 12 & 19 from noon–2 p.m.
If you're in downtown Seattle this season, head to Westlake Park for the sounds and sights of the holidays! Every Sunday through Dec. 19, enjoy free live music performed by a range of local musicians.
Happy Holidays Booths — Dec. 5, 12 & 19 from 11 a.m.–2 p.m.
On Sundays in December, we're celebrating the season with Happy Holidays Booths in Occidental Square. Stop by to meet a cast of merry characters, listen to live holiday music and enjoy a complimentary treat and hot cocoa. Certain lucky visitors will even receive a free giveaway.
Holiday Scavenger Hunt — Through Jan. 1, 2022
Take yourself on a scavenger hunt through downtown Seattle all season long. This outdoor activity allows you to explore downtown holiday attractions at your own pace.