GeekWire: Restaurants and small biz near Amazon HQ show signs of life as tech giant adjusts remote work rules
Posted on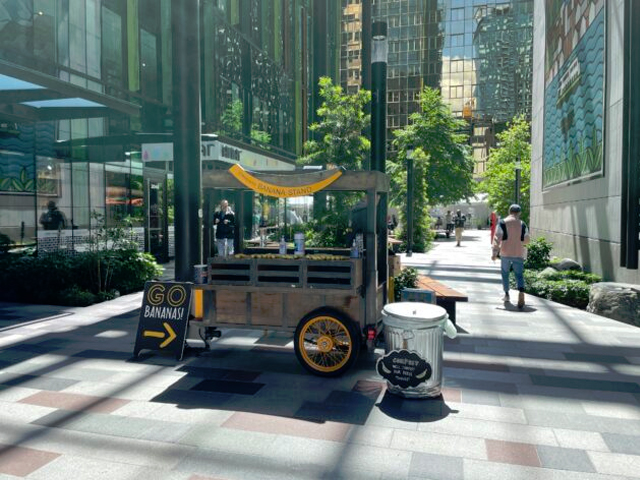 This article was originally published by GeekWire on June 11, 2021
Cinque Terre Ristorante had revenue streams nearly cut off when thousands of Amazon employees started to work remotely in March 2020. But nearly a year-and-a-half later, the restaurant just reopened for daily lunch this week after seeing increased foot traffic around its location on Amazon's campus near downtown Seattle.
"I don't think it's slowly getting back to normal," said Michael Barnett, general manager of Cinque Terre. "I think it's quickly getting back to normal."
Alonso Sanchez, a front-of-house manager at Mamoon, shared similar sentiments. The Middle Eastern eatery also relies heavily on Amazon employees who come to the office — 70% of its business is tied to Amazon, Sanchez said.
"Today is really busy," he said on Thursday as a small line formed outside, just across the street from Amazon's Spheres. "It's not quite normal, but we're getting there for sure."
Amazon corporate employees have been coming back to the office as COVID-19 case rates slow and more people receive vaccinations; Seattle this week became the first U.S. city to fully vaccinate 70% of residents. The energy on and around its campus this week was certainly a change from the ghost town vibes a year ago. And it's good news for the restaurants and other small businesses that were decimated during the pandemic as tech workers stayed home.
But reaching pre-pandemic levels of sales might not be feasible given Amazon's new return-to-work plans for corporate employees.
This week the company issued new guidance that will allow for a mix of remote and in-person work. Amazon told employees that its new baseline will be three days a week in the office and the option to work remotely up to two days a week.
The new plan backs away from communication in March which touted a "return to an office-centric culture." The shift reflects how Amazon and other employers are grappling with how to once again fill office space without alienating workers who have adopted new remote life and work styles.
But having more than 40,000 workers come to campus at least half of the week still provides a sense of relief for local businesses, including the hotels, salons, doggy daycares, and others that rely on Amazon.
"Amazon workers coming back to the office have definitely boosted our flow throughout the day," said Mackenzie Hughes, shift manager for Joe & the Juice, a smoothie shop on the bottom of Amazon's 37-story re:Invent building.
More than 80% of downtown businesses that existed before the pandemic hit have now reopened, according to the DSA.
"Workers are coming back to downtown and our restaurants, retailers and arts and culture venues need them to return," said Jon Scholes, president and CEO of the Downtown Seattle Association. "This is an essential component of downtown's recovery."
The graphs above show the average daily presence of office workers and average daily foot traffic in downtown Seattle since January 2020.
Amazon's new plan might actually be preferred for some small businesses that aren't quite ready to handle a rush of customers. Cinque Terre's Barnett called the return of office workers a "double-edged sword" given that the restaurant is having trouble hiring staff. It's one of many restaurants that are struggling to bring back workers.
Isaac Lopez has helped run a taco truck for more than a decade, opening up for lunch everyday at Amazon's South Lake Union campus. He was able to keep the engine running and is now hoping things get back to normal. But he's staying cautious.
If there's any lesson from the past 18 months, it's that you can't predict the future.
"We're a little more busy and we had to hire a third person," Lopez said. "But we don't want to get our hopes up. You never know."