Tournament Action, Hot Snacks, Games, Music and Art in Downtown Parks
Posted on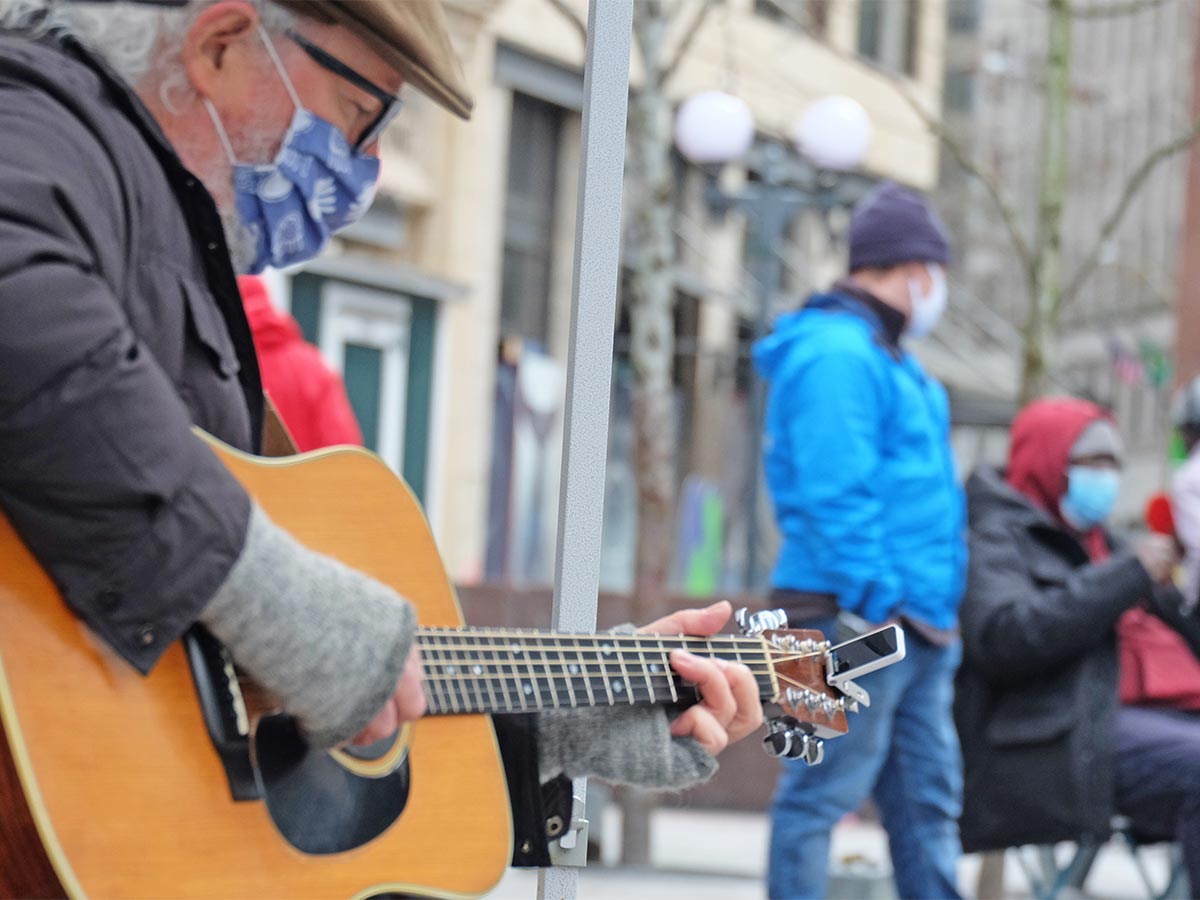 The days are getting longer and so is our list of fun activities in Westlake Park and Occidental Square.
Have you conquered your office NCAA pool? Is your basketball bracket busted? No matter the state of your tournament picks, you can cheer on the men's Final Four this Saturday in Westlake Park, where we're streaming on multiple TVs from noon-5 p.m.
You'll find covered and socially distanced seating, as well as dining options from nearby restaurants, food trucks and Dog in the Park. While you're in Westlake, hop into a hula hoop or pick up a ping pong paddle for some friendly competition (weather cooperating). Starting this week and continuing through April, buskers are back, providing live music every Monday-Wednesday from noon-2 p.m.
Occidental Square is now home to several new installations thanks to artists from the Pioneer Square neighborhood. A new mural was recently completed, another is on the way and more beautification projects are in the works. Keep an eye on our Facebook, Instagram and Twitter for more specifics on when the mural will be painted.
Also in Occidental, Passport to Pioneer Square continues through April. Through this fun, prize-incentivized challenge, the Alliance for Pioneer Square invites you to explore the neighborhood by shopping your favorite stores, restaurants and more. Pick up your Passport and stamps, complete a Passport Challenge and get rewarded for shopping in Pioneer Square.
If you plan on visiting the parks this spring or summer, know that our sanitation and social-distancing efforts are ongoing, but please continue to observe safety guidelines as a courtesy to other park patrons:
Keep six feet apart from others at all times. Our seating arrangement is a good idea of what this looks like.
Always wear your mask or face covering when you're not actively eating or drinking.
Practice good hygiene and try to keep your hands to yourself as much as possible. Relax in the park, but please consider coming back another time if it appears crowded.
And finally, have fun getting outside!