As council eyes $5.4 million in further police cuts, SPD and mayor warn of dire impact
Posted on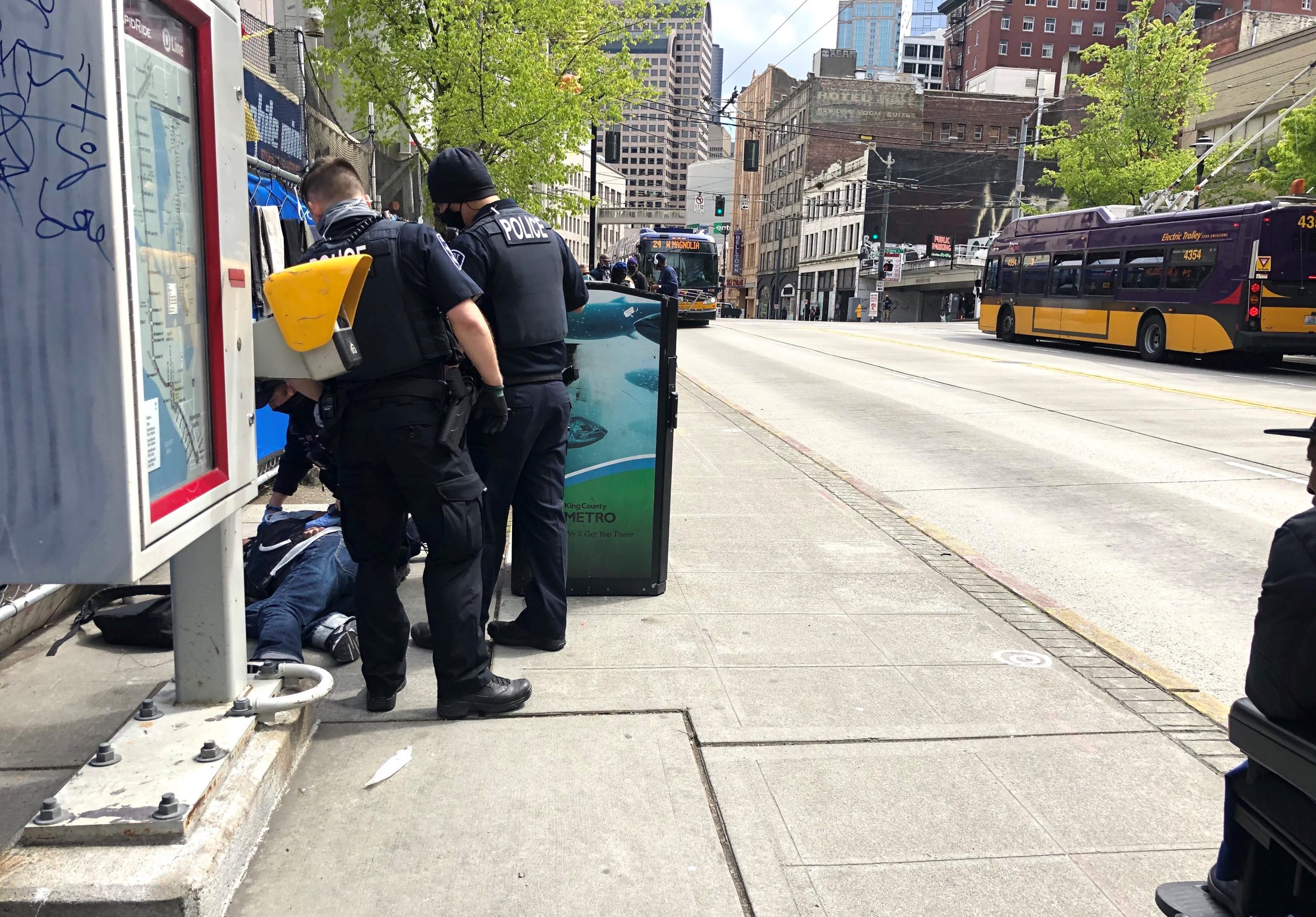 This story was originally published by My Northwest on March 10, 2021.
BY HANNA SCOTT
MARCH 10, 2021 AT 1:13 PM
In 2020, a total of 186 officers left the Seattle Police Department. That was described as a "mass exodus," linked to lack of support from elected officials, community, an ongoing consent decree, and protests that lasted for months, where some hurled not just insults but projectiles, and suggestions they take their own lives.
Morale was and is low.
Still, all sides, including the mayor's office, SPD, and all councilmembers are committed to reimagining public safety as they continue work to shift dollars into community led safety for at least some of what is typically handled by police.
As part of that work, the council passed an ordinance as part of its supplemental budget last year to trim another $5.4 million from the SPD budget. As it began hashing out what that looked like during a Tuesday committee meeting, city leaders and interim Police Chief Adrian Diaz painted a grim picture without the flexibility those dollars represent for the department.
In a memo to the city council the following month, SPD laid out some of the early concerns.
Then, last week, an updated analysis was sent to the council's Public Safety Committee.
In a presentation to the committee on Tuesday, Deputy Mayor Mike Fong explained just how dire a situation the city and SPD are facing.
"SPD is in a staffing crisis," Fong said, as he recalled more than 200 officers fleeing the department over the past 13 months.
"Patrol and 911 response challenges have emerged in pretty much every precinct, and the cascading impacts of Chief Diaz needing to redeploy officers and mitigate for 911 response has negatively impacted other units, bureaus including investigations, training, civilian crime prevention and community service support, all of which also jeopardize our compliance with elements of the Federal consent decree," Fong continued.
"Again, SPD is at crisis staffing levels."
It is obvious to Jon Scholes at the Downtown Seattle Association, who says businesses and community members have been concerned about an uptick in assaults, attacks, and vandalism as Seattle attempts to emerge from the damage caused by the pandemic, in part, by attracting more business.
"The largest number of officers departing the force in the city's history in 2020. Response times that are in excess of the city's own goals, and a council that is looking to cut more money from the Seattle Police Department without much of a plan for how we thoughtfully protect and promote community safety and thoughtfully reimagine policing," Scholes said during a recent interview.
"How will cutting five more million dollars help 'Priority 1' response times, which are now eight minutes?," he posited. "What are our goals and objectives as a city? This entire conversation that our council has led has really lacked clear objectives and outcomes. It's just bad policymaking."
As for SPD, they say this $5.4 million is needed to remain accessible to the community.
"Today, we hope we make it clear where the police department currently stands, and why it's essential that we use our existing budget appropriation to be more efficient, more agile, more supportive of recruiting employees, and more attractive to potential hires," Chief Diaz told the committee.
Chief Diaz says the department desperately needs some stability.
"At the start of each and every year, I work with the public safety professionals in the department to best determine how we will address the needs of the department, and how we'll prepare for the unknown. But by their very definition, it is impossible to precisely plan for the unknowns. That work is further complicated right now by an ever changing budget," Diaz explained.
"I need to be able to manage the department, and right now the instability in our budget is causing massive instability in the department, including our staffing," he added. "We do not know what 2021 will look like. Right now, I know that we have no flexibility and we cannot count on using any salary savings to help address these losses."
No decisions were made Tuesday, but Councilmember Lisa Herbold — who chairs the committee and co-sponsored the ordinance on the budget — also wanted to make one thing clear.
"I expressed a willingness to not be rigid on the reduction of the department by $5.4 million, and that I wanted to hear from the police department on what its needs are," Herbold said as Tuesday's meeting concluded. "I'm happy to consider what you've shared with us now."
Follow Hanna Scott on Twitter or email her here.