System Failure 2: Declines, Delays and Dismissals
Posted on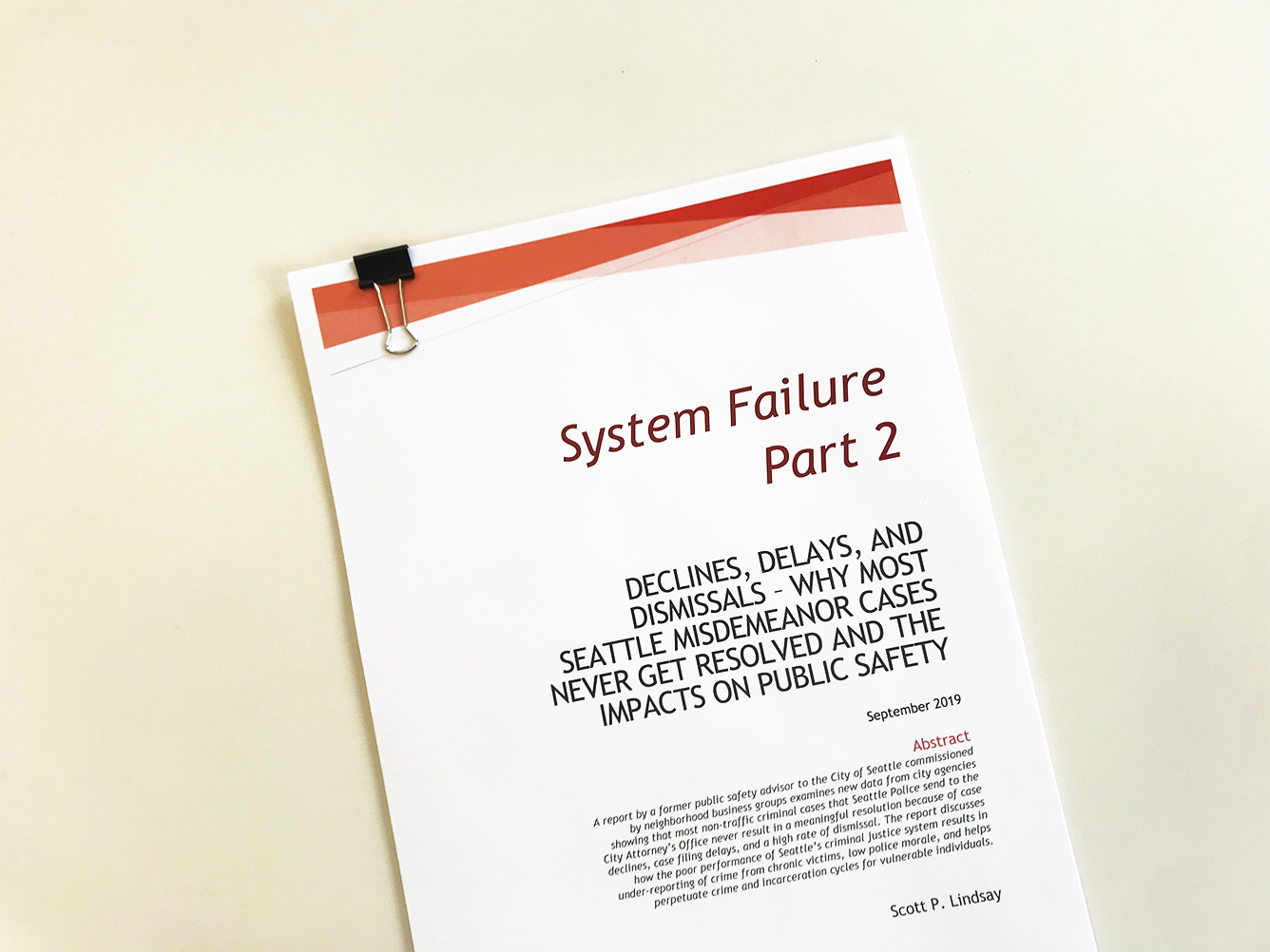 Public safety is paramount to a healthy and vibrant downtown. This is why DSA and other partner organizations have spent the better part of two years advocating for public safety investments and for the close examination of causes and impacts related to chronic criminal activity facing our neighborhoods.
Earlier this year, we came together with other neighborhood business districts and Visit Seattle to commission System Failure, Report on Prolific Offenders in Seattle's Criminal Justice System. The report was designed to help us better understand why a relatively small number of people who are committing crimes at an alarming rate cycle in and out of jail.
Since the release of the report the mayor hired a public safety adviser and implemented emphasis patrols. She also created a High Barrier Individual Work Group that has representation from all agencies involved in Seattle's criminal justice system. This group recently recommended four pilot programs that Mayor Durkan announced recently. In addition to the pilots, the mayor announced investments to recruit and retain police officers, hire more crisis response officers, and fund nurses at facilities with the highest volume of 911 calls. These investments are important first steps in addressing the public safety issues our members, ratepayers and city are facing. All of these programs are now before the City Council for consideration.
As a follow up to the first System Failure report, DSA and partners commissioned a new report that looks more closely at systemic failures centered around the City Attorney's Office. In System Failure Part 2, Declines, Delays and Dismissals – Why most Seattle Misdemeanor Cases Never Get Resolved and the Impacts on Public Safety we learn there are current practices within the City Attorney's Office that help perpetuate the dysfunction of our criminal justice system. By declining, delaying and ultimately dismissing nearly two out of every three cases transmitted by the Seattle Police Department, the City Attorney's Office is adversely impacting businesses, chronic victims, police officers and vulnerable defendants.
The report acknowledges that jail may not ultimately be the appropriate place to resolve issues that are often the root causes of criminal activity, including mental illness, substance use and/or homelessness. Seattle is a national leader in offering alternative solutions to people struggling with behavioral health disorders that contribute to repeat criminal activity. However, absent a functioning criminal justice system, these programs cannot carry the burden.