Downtown Seattle Association Welcomes New Board Leadership and Members
Posted on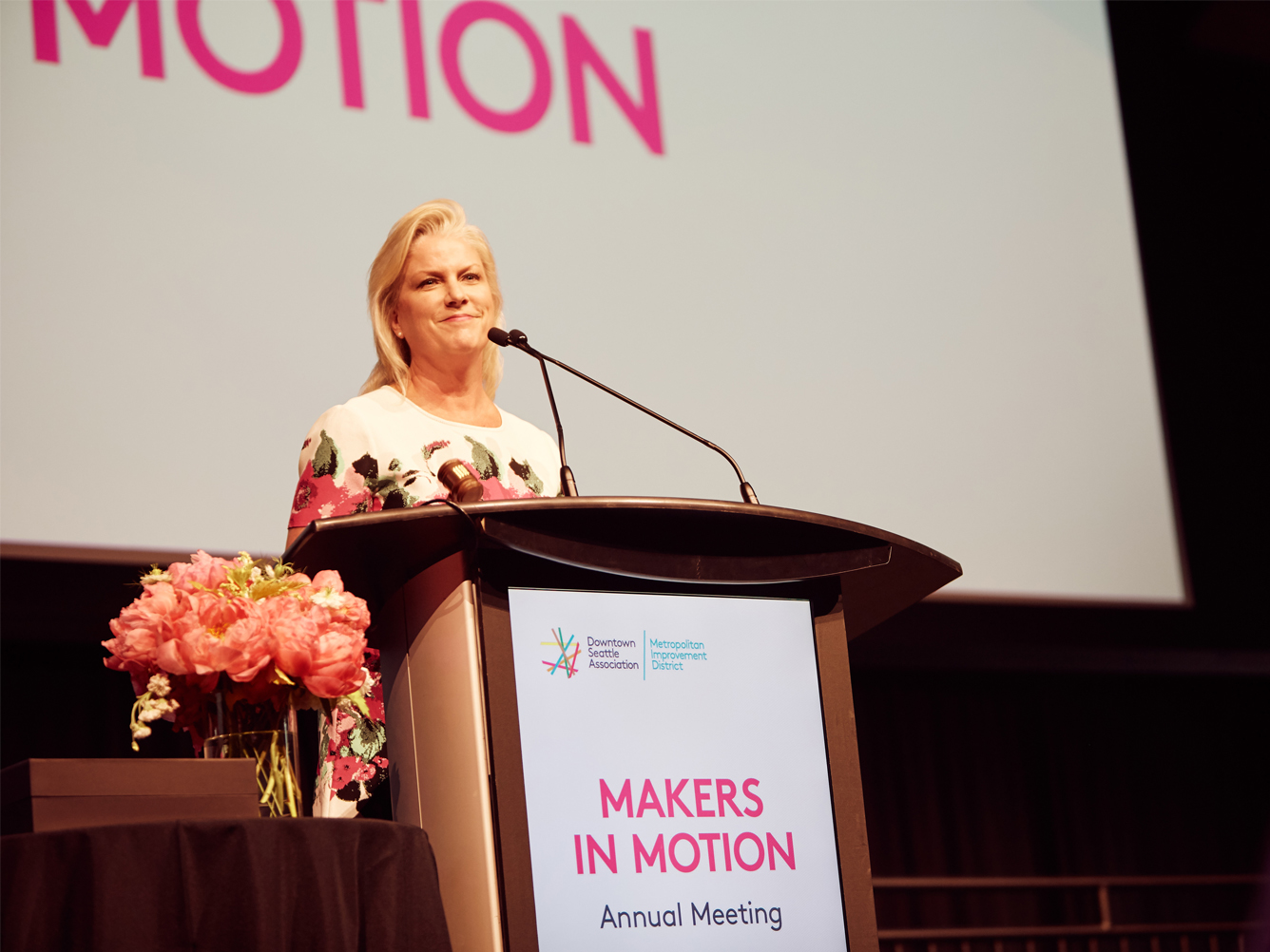 Marilyn Boss, Managing Director and Head of Office at Marsh, gavels in as board chair. Kathy O'Kelley, Vice President of Management Services at Hines, is named vice-chair
The Downtown Seattle Association welcomed new board chair Marilyn Boss, vice-chair Kathy O'Kelley and 10 new board members on July 1. The new board leaders bring a wealth of industry experience, drawing on backgrounds ranging from healthcare and community enrichment to real estate and finance. Their insights will further DSA's mission of a healthy, vibrant downtown. Board members serve three-year terms.
"We all know downtown is evolving," said DSA President and CEO Jon Scholes. "As it does, DSA is here to help keep our center city inviting for workers, residents and visitors alike. The diverse perspectives and expertise of these new leaders will strengthen our organization."
"Our new board members understand the issues we face, from public safety and transportation to ensuring our parks and public spaces are inviting. They all care deeply about downtown's success," said Marilyn Boss. "They are resources for everyone at DSA and support our vision of a downtown where businesses and residents flourish, and visitors can enjoy everything the heart of the city offers."
Visit our website for a full list of DSA board members.
New DSA Board member biographies
 Tim Brown
Wells Fargo
Tim Brown leads Wells Fargo's Middle Market Banking activities in Greater Seattle and Hawaii, providing local service and decision-making for businesses as well as asset-based lending, traditional loans and capital market access.
Serena Carlsen
Perkins Coie
Serena Carlsen advises clients on land acquisitions, facility purchases, ground leases, office and retail leases, financing and construction of facilities.
 Graciela Gomez Cowger
Schwabe, Williamson & Wyatt
Graciela Gomez Cowger is CEO of the law firm Schwabe, Williamson & Wyatt, where she leads teams serving six different industry groups, including healthcare, manufacturing, natural resources, real estate and construction, technology, and maritime and transportation.
Guy Hudson, M.D.
Swedish
Guy Hudson serves as CEO of Swedish Health Services. Prior to his current role, Guy was executive director of Pediatrics for Swedish and a pediatric urologic surgeon acting in leadership roles across the organization.
Michelle Merriweather
Urban League of Seattle
Michelle Merriweather leads the executive team at the Urban League of Seattle, managing fund development, human resources, program management and operations.
Tom Pozarczki
Washington Federal
Tom Pozarczki is a Regional President for Washington Federal managing commercial and retail banking in northern Washington, which includes Seattle, Bellevue, Everett, Bellingham and Spokane.
Rico Quirindongo
DLR Group
Rico is a principal at DLR Group and Civic Design Leader for their Northwest region. Rico works with organizations that want to have a positive influence on the urban and natural landscape of their communities through design.
Mike Ruhl
BioMed Realty
As Vice President of BioMed Realty, Seattle Market Lead, Mike Ruhl is responsible for implementing all aspects for operations in the Northest Region, including real estate development, construction, property management, acquisitions, leasing and acquisitions of assets.
David Watkins
The Sound Hotel
In June 2018, David Watkins was named General Manager of The Sound Hotel i Belltown. The hotel opened in February 2019. Prior to the Sound Hotel, David was general manager at the Inn at the Market.
Becky Witmer
ACT Theatre
Becky Witmer is Managing Director of ACT where she oversees marketing, fundraising and development, finance, production, the board of directors and the facilities and operations team.