Hotel Theodore Pays Tribute to Seattle's Makers and Builders
Posted on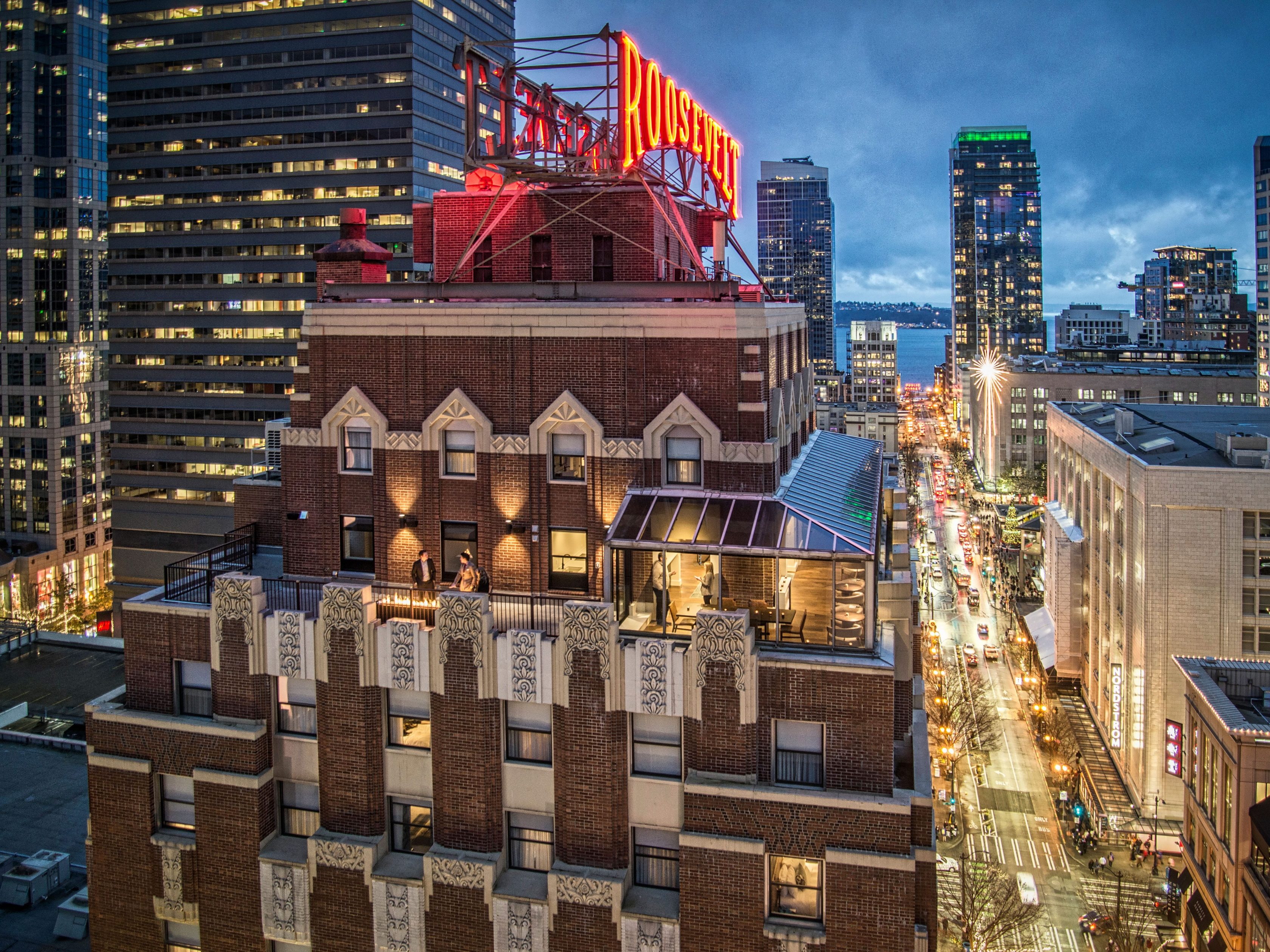 Hotel Theodore opened in November 2017, occupying the historic building that was once home to the Roosevelt Hotel. DSA spoke to the hotel's manager, Amber Bucko, about the new hotel, the importance of being downtown, and why they joined DSA.
What sets Hotel Theodore apart? How would you describe the hotel's mission?
Hotel Theodore is an upscale hotel inspired by Seattle's long tradition of makers and builders. Everything about the hotel has a sense of craftsmanship. There are a lot of unique details in the design and furnishings, so the feeling is refined and upscale, but also comfortable and thoughtful – like Seattle itself.
Through our collaboration with the Museum of History & Industry we honor and celebrate innovation our community has made over time – and will continue to make in the future. We are committed to developing collaborations and partnerships with local artists, purveyors, and entrepreneurs who embody the city's maker and builder tradition.
Talk about the history of Hotel Theodore, and why it benefits from being in downtown Seattle.
Hotel Theodore is really a rebirth of a downtown Seattle icon. This building was built in 1929 as the Roosevelt Hotel, and for a visitor to the city, there really is no better location. This is where travelers what to be when they come to Seattle. We're steps from the Washington State Convention Center, a short stroll from Pike Place Market, surrounded by the city's dynamic retail core and easily accessible to the businesses that call downtown home and drive corporate travel, such as Nordstrom and Amazon.
From here you can easily get to everywhere you want to be — a Seahawks or Mariners game in SODO, to restaurants and bars in Capitol Hill, to MOHAI in South Lake Union or to the Space Needle and MoPOP in Seattle Center. It's all right here, downtown.
Why did you choose to join the DSA, and what does DSA membership mean to you?
Collaboration and community are cornerstones of our philosophy in business and life. Supporting our neighbors and working together via DSA to ensure our downtown is the best place to live, work and play in Seattle – and the most dynamic urban center in the nation – makes inherent sense. We believe in Seattle, we believe in downtown and we want to contribute to our collective long-term success.
Do your employees live nearby? How do they get to work?
Our amazing employees live everywhere. Some are residents of downtown itself, but we also commute from Lower Queen Anne, Capitol Hill, Renton, Seatac, Shoreline, Edmonds, West Seattle and more. We come by car, bus, ferry and bike.
Any closing thoughts?
Right now, we are excited for our first summer season. You can feel the excitement in the air as visitors and locals begin to venture out to soak up the sunshine, stroll our downtown streets and stay and play in the neighborhood.
We're also looking forward to the great impact that events like Upstream will have this summer, bringing people from across the region and around the globe to downtown Seattle. Inside the hotel, we're fine-tuning and expanding on our offerings to make sure the travelers that stay with us are inspired to get out and explore the city.
The biggest excitement for us this summer will be the opening of our outside seating at our restaurant, Rider. It's going to transform that stretch of Pine and we can't wait to welcome folks for brunch, lunch, happy hour and dinner.