DSA seeks design consultant to take 'a deeper dive' on fixing Third Avenue
Posted on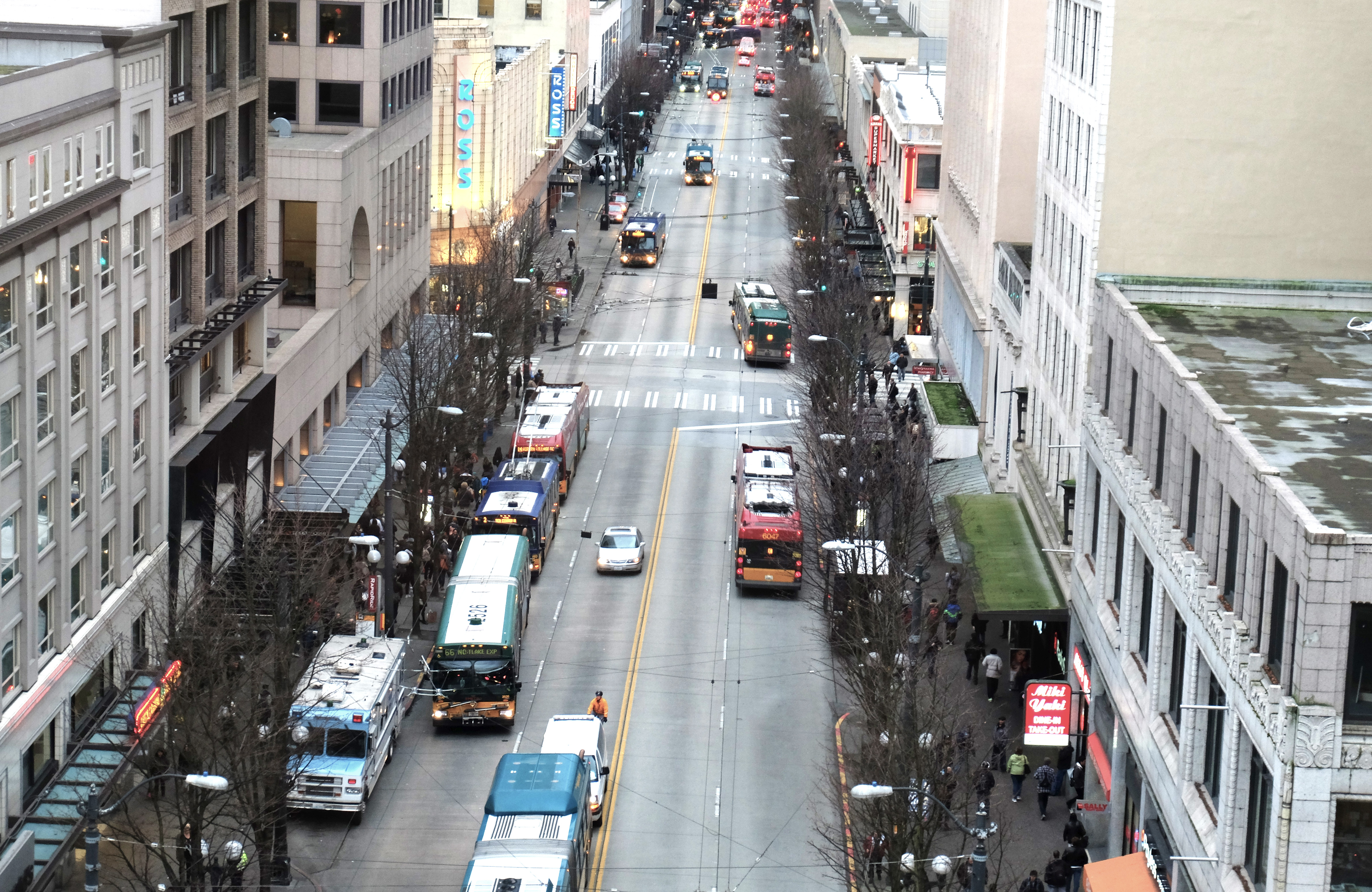 This article originally appeared in Daily Journal of Commerce on Nov. 15, 2017.
Third Avenue in downtown Seattle carries 52,000 transit riders every day, but few of those people stop long enough to enjoy a cup of coffee, shop or meet up with others, according to the Downtown Seattle Association.
It doesn't help that the corridor — especially at Pine Street — has a reputation for crime, which has drawn concerns from businesses, pedestrians and tourists.
DSA wants Third Avenue to attract more people, said Jacqueline Gruber, senior economic development manager for the organization.
So DSA will pay $100,000 for a consultant to create a design vision for Third — from Denny Way to Jackson. Proposals are due Nov. 20, according to a notice in the DJC. The group is partnering with the city of Seattle and King County Metro on the vision.
Gruber said there have been many attempts over the years and incremental progress, but, "This is the first time we've taken a holistic look at Third Avenue."
The consultant will consider urban design, transportation, private property, retail, public spaces and management strategies.
DSA wants to look at how property owners and developers can foster positive activity on Third, such as improving stores' sight lines, removing graffiti, lighting upgrades, and adding cafes or other uses that flow onto sidewalks.
"Retail is our best activation strategy in the city so we need to ask retailers how they can create vibrancy on the sidewalks," she said.
Gruber said Third lacks people spaces. The DSA wants the vision to examine wider sidewalks and gathering spaces, and leveraging Bell Street Park and City Hall Park where they intersect with Third.
DSA also wants to look at better ways to manage infrastructure, from light poles to bus shelters.
"I think when you walk along the corridor you'll see a lot of broken things, and getting those repaired is a challenge," Gruber said. "We really need a deeper dive on Third Avenue because of the amount of people, and because of the amount of wear and tear."
The DSA wants to improve the experience of being on Third, and help change peoples' perception of the corridor.
"Why not give (people) a reason to enjoy being on Third… and to stay awhile" by adding amenities, said James Sido, DSA's senior manager of media relations.
Gruber said DSA will use lessons it has learned from programming activities in Westlake Park and Occidental Square, and from its concept plan for the Pike-Pine corridor.
The goal is to hire a design team by the end of this year, and spend next year working on the vision with partners and stakeholders. No construction date has been set.
The city and Metro looked at improving Third as recently as 2014, when they commissioned a report by Perteet, CH2M, Hewitt, DKS Associates, Concord Engineering and EnviroIssues. The report covered transit, businesses, residents and visitors — and how to make Third "an inviting, accommodating, safe and attractive place where people want to be."
The report addressed amenities for transit users, improving sidewalks and lighting, adding capacity at bus stops, organizing street furniture and reducing clutter.
It also discussed ways to enliven blank facades and bring character to the street, as well as wayfinding, and upgrades for pedestrian and transit waiting areas.
The total cost for those improvements was estimated at $78 million, according to the report, which is at http://tiny.cc/glzsoy/.
Gruber said that project got to 30 percent design, but then stopped "so we can have this bigger discussion."
The city and Metro's plan only looked at urban design and some transportation strategies, she said. The DSA vision will also consider public space, storefronts and management strategies.
DSA is not a public agency, but Sido said it is the appropriate organization for this design vision. He said DSA has evolved from decades ago, when people thought "that we were simply looking out for business interests downtown. Now its mission is to enhance the vibrancy of downtown as a whole at the ground level.
"Because of that, it makes sense for DSA to take the lead on public realm projects," he said.
When asked for a status report on the 2014 plan, Seattle Department of Transportation's Mafara Hobson replied in an email:
"The Downtown Seattle Association is a trusted and committed partner of the Seattle Department of Transportation… Third Avenue is a prominent thoroughfare within the downtown area that has languished over the years, and we believe DSA is well equipped to help us invigorate the corridor given their pulse in the downtown community."