The Seattle Times: Does peaceful May Day signal Seattle's no longer in protesters' bull's-eye?
Posted on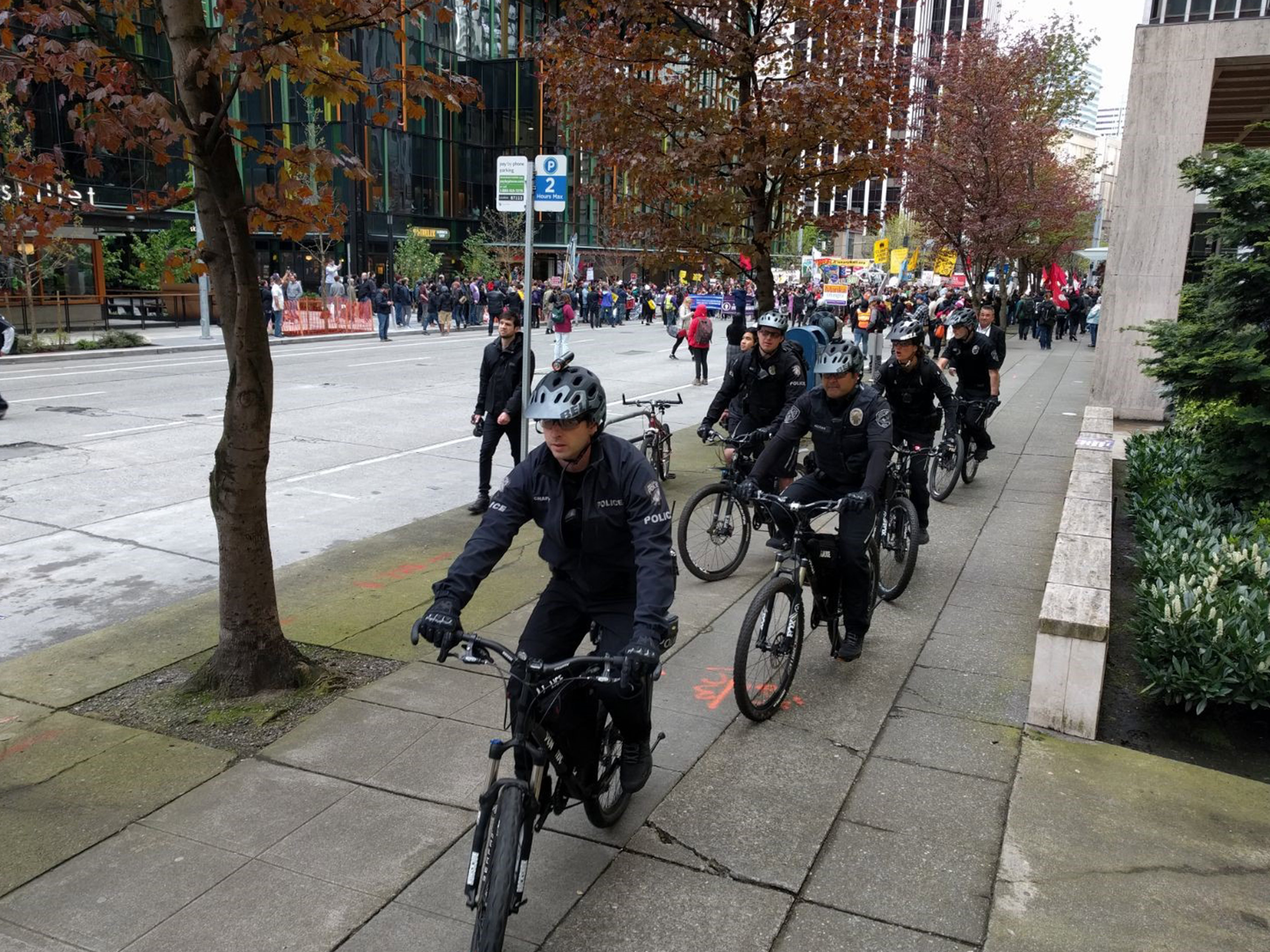 This article was published in The Seattle Times on May 2, 2017.
By Seattle Times staff
If May Day in Seattle came with a box score, it would look something like this:
Five arrests. No officers injured. Zero property damage.
By any measure, it would represent a win for a city that over the past six years has seen May Day protests erupt in violence, vandalism and numerous arrests.
Police did a good job handling the two groups that squared off at Westlake over President Donald Trump, said Sido, who noted the "peace joint. "
"It was pretty remarkable," he added.
In a Tuesday news release Castañeda conceded May Day's wet weather impacted the turnout, but claimed the march drew 10,000 people. Many observers said the numbers were far lower, with Murray noting turnout for May Day events was the smallest in his four years as mayor.
Seattle Police Capt. Chris Fowler, who was in charge of the city's May Day preparation and response, said police expected about 1,500 people for the immigration rally and march.
On Tuesday, three of the five people arrested during Seattle's May Day protests were charged with crimes by the Seattle City Attorney's Office, although none involved property damage or assault on a police officer.
Tavner Castle, 36, of Olympia, was charged with assault for allegedly attacking a woman. Nathan Davis, 30, of Seattle, was charged with resisting arrest and possession of an unlawful weapon (a knife). And Joseph Harrison, 51, of Boulder, Colorado, was charged with obstructing a police officer.
Two other men arrested Monday night were released on their personal recognizance while the city attorney's office reviews the cases against them and decides on criminal charges.
The five were arrested at Westlake Park, where a group claiming to support Trump at time verbally jousted with other protesters. Some pro-Trump demonstrators claimed to be members of "the Proud Boys," which describes itself as "pro-Western fraternal organization" for men who "refuse to apologize for creating the modern world."
The Southern Poverty Law Center describes the Proud Boys as an alt-right "fight club." Police in the Bay Area blamed its members for the violence that rocked an anti-Trump rally in Berkeley last month.
Fowler, the police captain, singled out the "Proud Boys" as a primary concern for police early in the day, with the potential for what he termed "a crowd-on-crowd threat." Beyond a few yelling matches, that "crowd-on-crowd" clash never materialized.
Fowler could not be reached Tuesday.
Francis Marion, who said he was part of a group called the American Freedom Keepers, was among those in Westlake. He said his aim was to allow everyone to express their viewpoints.
He said he was prepared for violence. When asked if he was armed, Marion noted that Washington offers concealed-carry permits.
When tensions did flare, police swooped in with bicycles to use as barriers and wooden sticks to push the two sides apart. Occasionally, police would whisk someone away for offenses that weren't always immediately clear in the undulating crowd.
Police had a heavy presence in Westlake Park during the day's events.
Kyle Broussard, who said he was a former Marine veteran and current University of Washington student, stepped in several times to play peacemaker, occasionally giving impromptu speeches and bringing people together for hugs.
At one point, protesters on both sides shared a joint.
"I brought Antifa and Conservatives together to smoke weed," an elated Broussard told a reporter. "I just don't want violence … regardless of what side you're on, Americans should not fight each other."
Seattle Times staff reporters Neal Morton, Evan Bush, Bob Young, Steve Miletich, Mike Carter and news researcher Miyoko Wolf contributed to this story, which includes information from The Associated Press.