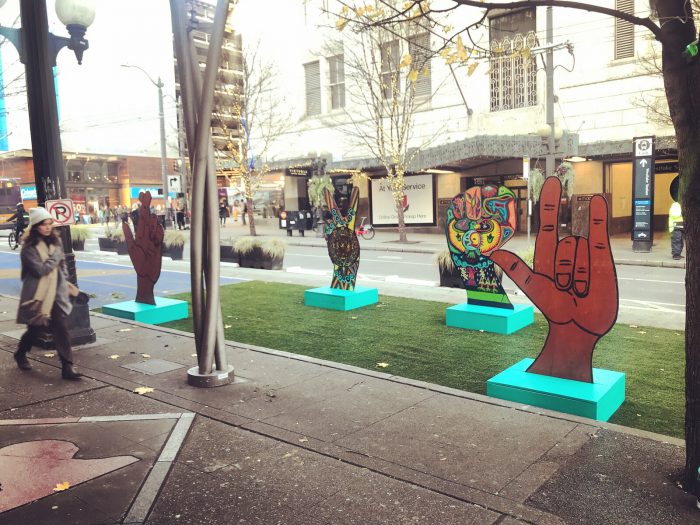 In September 2019, DSA, in partnership with the Seattle Department of Transportation, brought a number of enhancements to this centrally located public space that also happens to be Seattle's largest parklet.
In efforts to revitalize a focal point of Pine Street, we installed a brand-new turf seating area, along with a public art installation, rotating food trucks and other beautification amenities. Some of these installations have been temporarily paused to follow public health guidance around COVID-19, but DSA remains committed to improving this area.
The space is monitored and staffed daily by DSA's friendly and knowledgeable ambassadors.
Next time you're looking for a respite in the middle of the city, stop by Pine Street Plaza.
Park Rules
The Seattle Municipal Code prohibits:
Placing any structure or obstruction in the park without a permit
Dogs or other pets that are not leashed; person with dog must carry and use equipment for removing feces.
Sale of merchandise without a permit
Amplified sound without a permit.
Camping
Liquor (open or closed container)
Littering
Skateboarding, roller-skating
Illegal gambling
Urinating or defecating
Parks Code of Conduct (enforceable under SMC 18.12.040) prohibits:
Depriving others of their use or enjoyment of the park
No smoking
Unattended items
Creating a risk of harm to any person or property
Obstructing pedestrian traffic; interfering with the provision of services or the use of park property
Disrupting Parks and Recreation activities.
Abusive or harassing behavior