Design Swarms
Brainstorming breakthrough ideas calls for a breakthrough brainstorming method
For this important brainstorming opportunity, we turned to Surya Vanka, a former Microsoft design leader, a tenured industrial design professor at the University of Illinois, and the originator of the Design Swarms process. For our Design Swarms, Surya — and partners from the School of Visual Concepts — led teams of downtown stakeholders through a series of exercises using an online whiteboard to generate more than 750 ideas. The teams then narrowed down their own work to top contenders, which you're now invited to view and provide feedback on. See the top Revitalize Downtown concepts.
Toward the end of the brainstorming sessions, five teams sort their ideas to land on concepts that are both innovative and feasible.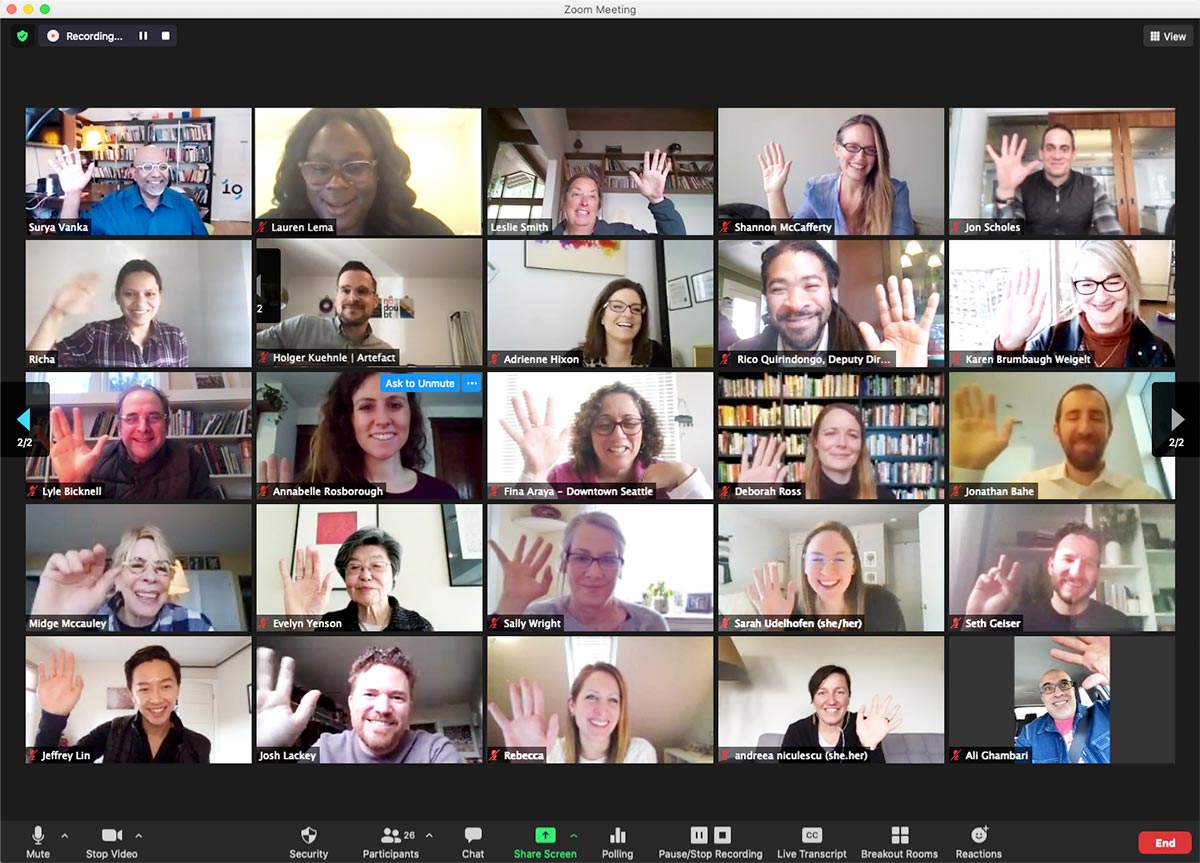 Each Design Swarm session was fueled by more than two dozen business and nonprofit leaders, downtown residents, city and county planning experts, and everyday Seattleites.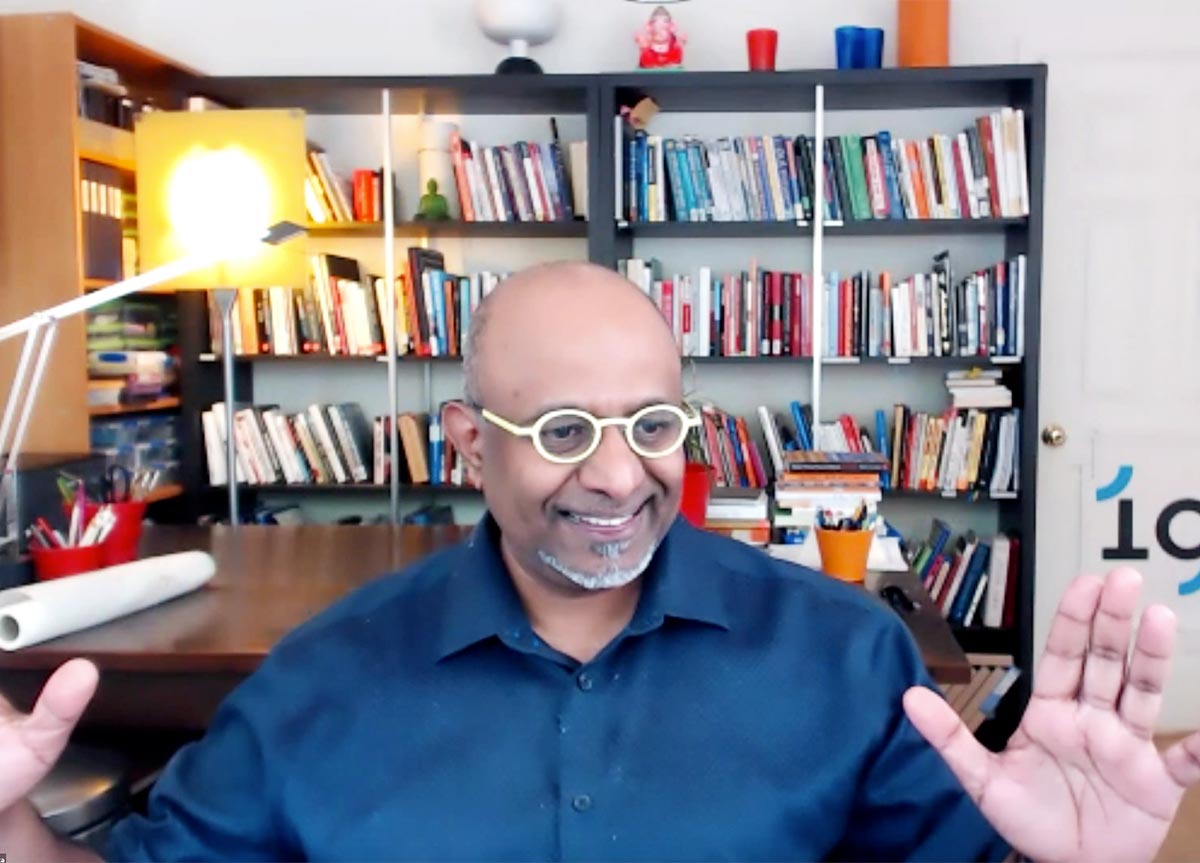 DSA brainstorming sessions were led by Surya Vanka, former Microsoft design leader, University of Illinois professor, and originator of the Design Swarms process.
Participants
Erin Adams, Seattle Made, Executive Director
Fina Araya, Downtown Seattle Association, Director, Marketing & Creative Services
Rebecca Arbeene, Northbound, Account Director
Anthony Auriemma, Starbucks, Senior Manager Government Affairs
Mary Bacarella, Pike Place Market, Executive Director
Jonathan Bahe, NBBJ, Senior Associate
Lesley Bain, Framework Cultural Placemaking, Urban Planner/Architect
Meru Belbayeva, Urban Renaissance Group, Leasing Associate
Lyle Bicknell, City of Seattle, Urban Designer
Candace Buchanan, Bloodworks Northwest, Creative & Brand Strategist
Amixa-Ray Calzado, University of Washington, UW Design Masters Student
Brian Cannon, Downtown Seattle Association, Senior Safety Manager
Megan Ching, Seattle Monorail, General Manager
Merissa Claridge, Von's, Managing Director
Cary Clark, Argosy Cruises, Partner/Owner
Jim Copacino, Copacino + Fujikado, Principal/Executive Creative Director
Annie DeLucchi, Concierge Guild of Seattle, President/Community Relations Manager
Libby Dover, Dover Entertainment, Owner/Event Producer
Liz Dunn, Dunn + Hobbes Consulting, Owner
Laura Durgerian, Mithun, Urban Designer/Landscape Architect
Michael Ellsworth, Civilization, Partner
Mark Embry, MarkyBoy Productions, Digital Content Creator
Marshall Foster, Seattle Office of Waterfront & Civic Projects, Director
Ben Franz-Knight, Shields Oblitz Johnsen, Senior Project Manager
Bill Gaylord, Gaylord Art & Design, Founder
Seth Geiser, Downtown Seattle Association, Manager, Urban Planning & Design
Michael George, Kidder Matthews, Senior Project Manager
Emily George, KPFF Consulting Engineers, Principal
Ali Ghambari, Cherry Street Coffee, Owner
Ben Grace, Amazon, Manager Community Marketing & Internal Events
Michael Greer, ArtsFund, President & CEO
Bernie Griffin, 5th Avenue Theater, Managing Director, Downtown Resident
Jacqueline Gruber, Vulcan, Public Policy Director
Joyce Halldorson, Charter Hotel by Hilton, Concierge/Small Business Owner
Shellie Hart, WARM 106.9, Radio Personality
Adrienne Hixon, Nordstrom, Retail Store Manager
Magda Hogness, City of Seattle, Urban Designer/Architect/Strategic Advisor
Alex Hudson, Transportation Choices Coalition, Executive Director
Zarina Infante, Commute Seattle, Transportation Specialist
Paul Ishii, Alpenglow/Global Travel, Retired/Volunteer
Janel Jensen, Unico Properties, Director Leasing
Troy Johnson, Paramount Theater (Formerly), Security/Tour Guide
Mark Karason, Concierge Connectivity, Strategist, Downtown Resident
Kelly Kost, Downtown Works, Retail Strategist
Elliott Krivenko, Downtown Seattle Association, Senior Research Manager
Holger Kuehnle, Artefact, Executive Creative Director
Josh Lackey, Vulcan Real Estate, Senior Marketing Manager
Barb Larimer, Self-Employed Marketing & Sales Consultant
Lauren Lema, Bank of America, Relationship Manager/Commercial Real Estate
Rob Leslie, Visit Seattle, Director, Partnership & Destination Services
Jeffrey Lin, Starbucks, Store Manager, Community Inclusion & Diversity
Amelia Marckworth, Seattle University, Adjunct Professor Albers School of Business
Shannon McCafferty, Shannon McCafferty Design, Principal
Midge McCauley, Downtown Works, Principal
Fran McDonald, PCC, Retail Market Program Manager
Laura Muñoz, University of Washington, UW Design Masters Student
Devon Nicholls, Continental Mills, Art Director
Andreea Niculescu, One and Three, Strategist
Lisa Nitze, Nitze-Stagen, VP, Marketing/Investment/Community Partnerships
Kathy O'Kelley, Hines, SVP Property Management
Bridget Perez, Continental Mills, Director, Creative Services
Josh Pitney, Substantial, Senior Designer
Chris Poullos, Mario's, Manager Store Operations
Rico Quirindongo, City of Seattle, Office of Planning & Community Development
Joe Riley, Colliers, Senior Vice President
Victoria Rodriguez, Microsoft, Product Manager
Annabelle Rosborough, Downtown Seattle Association, Public Space Program Manager
Deborah Ross, Pine Street Group, Director of Leasing
Maria Royer, Real Retail, Principal
Richa Ruchita, Copacino + Fujikado, Senior Strategist
Will Rush, University of Washington, MBA Student, UW Foster School of Business and Center for Entrepreneurship
Jon Scholes, Downtown Seattle Association, President & CEO
Mason Sherry, Seattle Theatre Group, Managing Director
Ted Sive, Watson Kennedy, CFO
Leslie Smith, Vulcan, Senior Director Government Affairs
Roslyn Solomon, What's Next Washington, Board President, Downtown Resident
Coleen Spratt, Spratt Asset Advisory Services, Owner/CEO
Stan Suchan, WSDOT, Project Manager
Brian Surratt, Alexandria Real Estate, VP/Real Estate Development & Community Relations
Jessa Timmer, Alliance for Pioneer Square, Deputy Director
Melissa Tizon, Providence St. Joseph Health, AVP National Communication, Downtown Resident
Diane Torrance, Providence St. Joseph Health, Retired
Carolyn Tow, Downtown Seattle Association, Director, Member Relations
Karen True, Alliance for Pioneer Square, Economic Development Director
Sarah Udelhofen Commute Seattle, Senior Transportation Specialist
Justin Umagat, Huitt-Zollars, Senior Project Manager
Sabrina Villanueva, Clise Properties, Inc., Director, Property Manager
Karen Weigelt, Nordstrom, Senior Project Manager, Downtown Resident
Jim Werth, Ivar's, Former Director of Marketing
Sally Wright, Downtown Seattle Association, VP, Communications & Marketing
Evelyn Yenson, Washington Lottery, Retired, Downtown Resident